TINUBU – FASHOLA: CROSSROADS, NOT DEAD END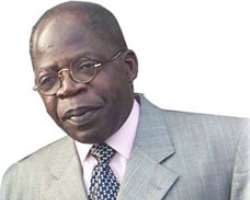 Tinubu
The political landscape appears rather dull. It is somehow strange that less than a year to another election, the atmosphere is somehow somber save for the side attractions created by the House of Representatives when members engaged in pugilistic opera and the PPA query saga which tsunamied a member governor and a member senator from the party.
As at now, none of those in office including President Jonathan Goodluck has come out to declare his intention to seek re-election. And funny enough while justifying his let's-wait-and see stance when he was asked if he was interested in contesting election as the country's president, Goodluck responded that he did not want to heat up the polity with his disclosure and besides, none of the sitting governors has come out yet to declare their intention.
But the reasons for the governors' silence may have nothing to do with what is holding Jonathan back. While Jonathan was installed in power by providence most of the governors were installed in office by their godfathers. They therefore dare not jump the gun when the godfathers have not given them the ticket to run.
To extrapolate this preamble to the scenario unfolding in Lagos between Asiwaju Bola Ahmed Tinubu and Babatunde Raji Fashola, one cannot but say a few things about their relationship.
There is no doubt that Fashola is Tinubu's 'son'. By implication then, Tinubu is indeed a 'godfather'. Fashola was made, installed, established and crowned by Tinubu. But there are strong indications from what I can gather that there is serious pressure on Tinubu to dump Fashola and replace him with a more loyal and popular person, a consideration which obviously is an aftermath of the recent face-off between them. But the Tinubu I know will not succumb because he knows the implications of replacing a performer like Fashola.
During the 2007 campaign, while trying to justify his selection of Tunde Fashola over and above people like Rahman Owokoniran, Kunle Lawal, Oyinlomo Danmole, Aro Lambo, Jimi Agbaje, Hakeem Gbajabiamila, Tokunbo Afikuyomi, Tinubu assured Lagosians that he settled for Fashola because he knew he would perform and even surpass his own achievements. And this has come to pass. So what would now be his excuse for removing a winning and performing governor whose achievements to date are incomparable?
Regardless of his achievements and performance however, Fashola should beware of praise singers who may want to impress him with his records. He should disregard their flattery and ensure that he settles with Tinubu convincingly. They may tell him that in case Tinubu does not support his second term project, he should join any other party and with his performance, he will win the election. That is a dangerous path to tread. Those who thought they were popular and did not need Tinubu's support in 2007 are still alive to tell the story of their defeat. I am sure those who contested both the primaries and the guber election with him in 2007 must have said it to his hearing that the 2007 election was between them and Tinubu and not Fashola.
As a leader, Tinubu should forgive his political son and consider whatever he must have done as one of those things that godfathers suffer when their sons are under pressure from parasitic`za praise singers to liberate themselves and ignore the past and the circumstances of their rise. It is unfortunate however, that Fashola seems to find it difficult to understand Tinubu after serving as his Chief of Staff for many years.
There is nobody that worked with Tinubu that was not proud of him. He is a leader that is born to rule. He is a statesman, a mobilizer with a peculiar magic. He is a charmer, a planner, an organizer and an enigma and a very caring and kind leader who does not keep malice. He has a large heart as he forgives easily and takes care of his enemies or rivals in their moments of need. He does not engage in politics with bitterness.
When I read in the newspapers how the Oba of Lagos was mediating in the rift between him and Fashola, I knew the crisis between them must be very serious. Tinubu must be extremely angry with Fashola for whatever offence the latter might have committed. Whatever must have happened is not for public consumption any longer since the rift was said to have been resolved.
But was the rift strong enough to cost Fashola his second term? Most people are curious to know if Tinubu will support Fashola for a second term. This is a question that only Tinubu can answer and he keeps that as his own ace. As things are now, I am sure that it is not only the people of Lagos State that are interested in whether Fashola will get another term. I say with strong conviction that Fashola himself is not sure if the whole crisis is settled and that Tinubu will give him another chance.
Those who ask this question wonder if there is any other person that Tinubu can present that will be better than Fashola and that will be accepted by the people of the state. As much as one is not saying that Lagosians do not have minds of their own, whoever Tinubu puts down will enjoy tremendous support as well. We should not forget that Tinubu controls the political structures of the state and engineers its electoral mechanics through his effective political mobilization both at the intra and inter-party levels.
As to whether he has any other person as replacement. Yes of course he has people like Gbenga Ashafa, Tunji Bello, Muiz Banire, Akin Kekere-Ekun, Segun Oniru, Wale Tinubu, Ademola Adeniji-Adele, Yemi Ikuforiji, Wale Edun, Yemi Cardoso, Wasiu Eshinlokun-Sanni and some other unknown people that may become known once they are presented to the party. After all who knew Fashola within the political circles before Tinubu brought him up. He was a complete gentleman showing no interest in politics or its antics aside from building a strong Law chambers where he can practise his Law particularly with his new status as SAN which he got when he became Tinubu's Chief of Staff. Let us do a brief Parade of possible replacements:
Gbenga Ashafa
A political bureaucrat with heavy and influential social contact and network that is overwhelmed with aura of affection. He is an adorable fellow of unpretentious generosity and celestial gentility. Hajji Barry as he is fondly called is a jolly good fellow that Lagosians can all follow. He is the current Permanent Secretary for Lands.
Muiz Banire
A cerebral erratic with substantial following in Mushin, his sphere of authority and control. One of the few specialists on land law who unfortunately has abandoned this expertise for the lucre of politics. He was a Commissioner under the Tinubu administration and the present Commissioner for the Environment in Fashola's administration.
Akin Kekere-Ekun
The present Chairman of Lasu Governing Council, a financial guru of conservative orientation and the former Managing Director of defunct Habib bank. A pragmatic businessman capable of achieving an expedient alignment between politics and business since he is not unfamiliar with both terrains. A member of the Kekere-Ekun family once contested for the governorship seat of Lagos State in the Second Republic.
There was even a rife speculation that it was when he declined Tinubu's entreaties to join politics in 2007 that paved the way for Fashola's sudden emergence but in politics never say never. A very reserved and cultured individual who speaks with methodical reticence. A creative and restless personality full of enterprising ideas and elephantine energies. His wife is a judge of the Appeal Court. He is unequivocally a gubernatorial asset that Asiwaju can also enthrone.
Wale Edun
A cosmopolitan gentleman whose entire life is dedicated to the corporate firmament. A business-minded fellow that can be persuaded by Tinubu to take a sabbatical from the business world and join politics. He was a former Commissioner for Finance under the Tinubu administration. He has the charisma, and the brilliance.
Yemi Cardoso
Another respectable corporate veteran with noble background. He is from the famous Cardoso family in Lagos Island and married into the Benson family of Ikorodu. He has all it takes to be the state governor. He has the wits, the grits and the ebullience. A well endowed and well exposed individual who served as the Commissioner for Budget and Planning in the Tinubu administration. He too can be persuaded by the Asiwaju of Lagos politics to run for the governorship position.
Segun Oniru
A prince that remains an obscure figure despite having been in the corridors of power for some years even as a commissioner. His profile is not rich in achievements except for his inherited nobility. But his closeness and that of the family to Tinubu may work for him.
Ganiu Solomon (GOS)
An easy going chap from a very solid political clan in Mushin. He has, in a very short time, established himself In Nigerian politics not because he is a senator of the Federal Republic of Nigeria, but fundamentally because of his sophistic contributions to national discourse. He has the pedigree to be a governor if Tinubu wants him.
Tunji Bello
A distinguished journalist and lawyer and a former commissioner in Lagos State and the husband of the present Deputy Vice Chancellor of Lagos State University. He also has all it takes to be in the parade. My only fear for him is that Lagosians may make a fuss about his family origin. Aside from any member of the Mabinuori-Bello of Ago Oshofin, installing any other 'Bello' as governor of Lagos state may sap all the political wits and wizardry of Tinubu himself.
Wale Tinubu
The Managing Director of Oando, whose sudden intrusion into the corporate world was also initiated by Asiwaju Bola Tinubu, is another good material at Tinubu's disposal. But will he be ready to depart the corporate world at a time that his image is soaring? Only time and Tinubu Snr can tell.
Yemi Ikuforiji
The Present speaker of the State Assembly who has gradually found his niche in politics. A very strong loyalist of Tinubu who played a strategic role in the Tinubu - Fashola face-off. He is a man whose character and personality are shrouded in inscrutable decoy.
Ademola Adeniji-Adele
A serial gubernatorial acrobat whose series of attempts to become the State governor have always ended in convoluted somersaults. He is currently the Commissioner for Youths, Sport and social development under Fashola. Based on his antecedents, Adeniji-Adele may still be interested in the governorship seat. However, he is still likely to have a major challenge: the emergence and performance of Fashola is an obvious obstacle to an old school gubernatorial applicant like Adeniji-Adele.
Yakub Balogun
A new entrant into politics. Though while he was the Head of Service in Lagos State, he indulged in testing-ground politicking, now that he has joined the Action Congress for real he will understand politics for real.
Wasiu Eshinlokun-Sanni
The current chairman of Lagos Island Local Government and a tested politician of splendiferous exploits. He has moved round the Lagos political orbit for quite a while and has proven himself in every position he has held. Extending the gubernatorial invitation to him will be the next appropriate challenge after his present responsibility.
The issue for now should not be about replacement but about making progress. In Lagos State, we must move on. Fashola has shown that he is a worthy son capable of wearing the big shoe that Tinubu once wore and with this, Tinubu should feel satisfied and fulfilled that his legacy in Lagos is being sustained. The people of the state and history will always acknowledge him as the architect and builder of the foundation of what is going on in the State.
It may be a paradox, the normal Nigerian paradox, where strange things happen, that a governor who has performed brilliantly and excellently to the admiration of all and sundry is still not sure of a second term because the godfather is keeping silent.
But what can we say? Those who voted for the 'son' in the first instance voted for him because of the godfather. The performance of the son is therefore not an opportunity for him and his chorus singers to disrobe the godfather of his cassock of fame.
There are godfathers and there are godfathers. Tinubu is a godfather with a difference. Some godfathers are hungry. Some godfathers are wealthy. Tinubu belongs to the latter. Tinubu was a top shot in Mobil before joining politics. That speaks volume of how rich he was before he became the governor of Lagos State.
And as the governor of the richest State in the country, Tinubu garnered sufficient influence that he can translate to tremendous affluence. That is all I can say. He is therefore not after the state money like some other godfathers. All he craves for is loyalty to the symbol, commitment to his legacy and passion for the cause of the struggle. Is this too much a price for Fashola to pay? I do not think so. A beneficiary of the structure should owe allegiance to its mentor.
In every aspect of his political life, Fashola needs Tinubu. What he should understand is that Tinubu is a deft and calculative master strategist that knows how to perfect and manage electoral engineering in such a way that his opponents will never find any loophole to capitalize on. Call him the last man standing or the only man standing and you will have the image of the grand master himself or the godfather who never sleeps. No amount of antics by political charlatans and parasites at the corridors of power can demystify the Tinubu phenomenon.
•Dapo Thomas was Senior Special Assistant on Policy and Programmes to Asiwaju Bola Ahmed Tinubu from 1999 to 2007.