LOVE NWANTỊNTỊ: A Special Valentine Poetry Collection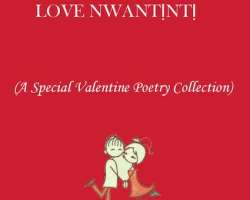 EDITOR'S NOTE:
One can manifest, celebrate or even reciprocate love throughout the 365 days in a year, but it is always nice to do something extraordinary to specially celebrate his or her inamorato on such a special day as the Valentine's Day, marked globally on 14th February every year.
Again, buying/giving items like ice cream, chocolates, flowers, jewelries, clothes and other kinds of gifts on such a special Day is also good; however, written words appear to be more special, enduring and memorable than them all.
It is in agreement with the above, that a group of fervent bards, 23 in number, decided to wear this year's Valentine's Day a colourful and poetic garb. This they did, by weaving and sequentially donating some stanzas and lines of carefully crafted words under a single title of "LOVE NWANTỊNTỊ", in response to an online 'Call for Stanzas'.
Compiled and edited by Izunna Okafor, this Special Valentine Poetry Collection, also known as World's Longest Love Poem was started in 2019, and is currently in its fourth edition this year, 2022.
It is the collation and editing of these beautiful lines and stanzas from these dexterous writers that gave birth to this masterpiece, 'Love Nwantịntị', in which they also explore the theme of a true and mellifluous love, vis-a-vis the Valentine's Day.
They write:
LOVE NWANTỊNTỊ
Stronger than real men
Uncountable as women
Is my true love for you
Love too blue to construe
Love nwantịntị
Deeply rooted beneath the earth
And watered from above the earth
With strands full of fun
Enabling it survive the sun
Love nwantịntị.
Greater than mere words
Truer than any thought
Is your love for me
Love nwantịntị
Nothing can describe this.
Embracing my flaws, and fills
These pores with such bliss
As a freshly breathed mint
Love nwantịntị
Let this be everlasting.
The sky strides red -
Red is a color of love -
Of the sun, setting on
the rivers, I met your love
Love nwantinti
Your love— web tangled with a needle,
to mend my heart and soul.
This is the love song you yearn to hear.
I will sing it to you
As long as our love lasts
I pray no intruder will alert
To me our bond is beyond death.
If not for anything at least
i have chiselled your name
at the walls of my heart
eternity with inks of red roses.
Beyond death is the bond
Only love nwantịntị brings
To them that love simply
Innocently, selflessly,
And those that abhor rituals
Cultism, gangsterism
And evil means to impress!
Write me love notes,
Give me flowers laced with love
And you're my Val
Forever!
Memories...
I was shivering
Holding the debris of my heart
When you watered my soul.
You came to me
A lonely, thirsty soul
When my nerves dried of sun
The memories of our love
Is such a book I'll never cease to write
Even in the absence of my soul
The memories of
Our challenges are like a rod
In a pillar
Straight as a ruler
Our union a miracle
Our love a model
Our understanding a dream
Our growth a circle that evolves freshness
At first, I was an old boy
Kissing the heart of nights.
But you dawned on me
Like the sun of a dream.
Let's metamorphose
Into the greenness of eternity.
Together, we will mushroom
Love nwantịntị
Let's transmute union while,
gulping the liquor as my companion, spying the future in oneness.
It tingles me like ice on a bare body
To my void sing the lyrics of passion let the wall of my heart echo.
Your thoughts and the desire for your endearment
powered my weakened legs
to seek solace in a safe haven
where you and I can muse together in the cuddling ecstasy of ravenous joy.
Let's go riding on the crest of joy
Once more this mo(o)nday
See again the fishlets of love
Swim within the pool of heart.
Dear, the earth is ours
And its fullness is your face
When smile x-rays as moonglow
Firm-flesh supple your skin in my palms
The world is ours alone to own.
The thought of you reinvigorates my heart
Sending shivers down my spine
Your mammary gland as succulent as a ripe pawpaw ready for harvest
The desire to grab you in my warm embrace intensifies by the day.
Open the door of your heart my love
Let me take you to my love garden
Make me your Romeo
And our sweet loving romance would know no bounds.
Love nwantịntị.
Your stares and fixtures
Remind me of a fairy hallucination
Our souls were interchanged
Each painted in same colour of affection
Wonders! and Wonders! of the mind.
You thrust in me a spear of intimacy
I'll always stand by you
To lend and to mend
Trimming our individual excesses
To leave each other better than we met.
You are the miracle that walks me
upon the sea of love
Your face has become mural paintings
on the walls of my heart
Thoughts of you punctuate my activities,
like the distant song of the lyrebird
I have become your match, and yet, your candle
Let this light be a lantern to illuminate our faces,
an aisle to walk upon.
You have become a matchbox,
If you strike, only I'll burn into ashes...
Your love falling and pouring
Like the morning dew
Cooling my scorched soul
Long dried by the
harmattan sun.
Now, our love is better and yielding
Like a tree planted
by the river side
Which flourishes in all season
My love, like switches you turn me on,
Like stitches, you mend my life,
Like patches, you cover my emotional holes,
Like matches, you light up my face with smiles.
Be my endless charm,
And I'll bury myself within your arms.
Take me not as you took the rest,
And I'll be your best.
Let me feel your warm
Embrace on a cold winter night,
Sing me a lullaby song
To lure me to sleep.
Let me be the light,
That shines
Within your heart;
When the stars are few.
My love, you're a moonflower that blooms by moonlight,
You glint like the yellow sun and your perfectly crafted facade radiates irresistible beauty.
Your perfume which scents like the lily of the valley
Saturates my soul with the undying quest to solidly stand by you.
My love, your alluring smile is the lozenge that soothes the pain of my broken soul,
Your voice piles up the holes in my heart with imperishable particles of hope.
Allow me pluck you out of your garden into mine;
For precious flowers like thee need a soul to stand with.
My love,
Your comeliness alikes a condiment,
That prettifies a mouth-watering delicacy.
Your contagious and confident smile
Is enough to melt a hardest heart.
I can't stop having the penchant
To gaze into your captivating eyes, my love.
Hence they're filled with kindness,
And literally the cutest ever seen.
I stare in awe of thy swaying features
Mind dancing to the labyrinth of thy benevolence
And...nay; the aura irresistible
Like one who rides on the sky
Oh! if thou will bid me, to grace thee a moment.
A thousand much more to be encroached I will take.
A promise to keep I make
Only if thou bidest me come hither.
Thou fairest of all.
With your cupid's bow,
You captured my heart
My warrior, my Love Nwantịntị!
Tie me with your strongest rope in your territory
Be ye mine for ever
Cuddle me with your love
Let us fete together
For it's our day, a season of love
Our 'love is in the air'
Happy Val to you
My Love Nwantịntị.

THANK YOU FOR READING!
CONTRIBUTORS

1. Izunna Okafor
2. Divine Ogonna
3. Paul Olayioye
4. Ahmed Aisha
5. Chisimdi George
6. John Chinaka Onyeche
7. Udo Okoronkwo-chukwu
8. Salim Yakubu Akko
9. Obiageli Ezeilo
10. Olusoji Obebe
11. Akeredolu Eniola Zion
12. Ifeanyi John Nwokeabia
13. Nket Godwin
14. Valentine Muoma
15. Nnaji Samuel Chukwuebuka
16. Kelechukwu Samuel Ojile
17. Okoro Kelechi
18. Emenike Christian Chijioke
19. Osazuwa Cynthia
20. Iheke John kelechi
21. Bard Valiant Nwokeoma (Valiant Pen)
22. Ferdinand Miracle
23. Charity Uzoagba