SENATE WADES INTO RESIDENT DOCTORS STRIKE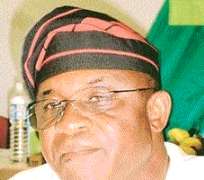 Mark
The Senate has initiated moves to resolve the lingering crisis between the Federal government and the striking resident doctors as the Senate President David Mark met with the executive members of the doctors' umbrella body, the National Association of Resident Doctors (NARD).
Ostensibly worried by the continuous industrial action embarked upon by the resident doctors over unpaid arrears of salaries and allowances, the Senate President pleaded with the doctors to return to work to save lives while government makes effort to meet their demands.
The NARD is demanding among other things five months arrears of the Consolidated Medical Doctors Salary scale and allowances.
A statement issued yesterday by the Chief Press Secretary to the Senate President, Paul Mumeh indicated that Mark met with the National Executive Committee (NEC) of NARD on Friday night in Abuja and pleaded with the aggrieved doctors to review the four-week old action in the interest of the ordinary Nigerians and go back to work.
He told the doctors to listen to the voice of reason and allayed their fears of a possible mass sack or the threat of 'no work, no pay', if they do not return to work.
Senator Mark said: 'Let me assure you that nobody will sack you because of your action or by demanding what is your due. Under the present democratic dispensation, nobody will sack people en-masse without recourse to the National Assembly.
'But please, return to work and save lives of innocent people, the poor and the less privileged. Give me time to table this matter before Mr. President, so that we can find amicable solution.
'You know as medical practitioners, 90 percent of your work is humanitarian, you cannot afford to see your patients dying and you look the other way'. Mark expressed the hope that the doctors would sheathe their swords and resume work.
Briefing the Senate President earlier, the President of NARD, Dr. John Tunde Aremu said that the strike action was painful and regrettable, but was a last resort to draw the attention of the authorities to their plights.
He dispelled the insinuation of religious, ethnic or political colouration being given the industrial action and insisted that neither threat of mass sack nor denial of salaries would intimidate them from demanding their legitimate dues.