Bnl Says No Going Back On January 23 Ultimatum, As Cameroonian Military Blocks Bakassi Borders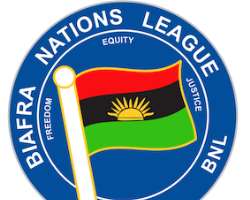 Biafra Nations League, BnL, has warned of the daring consequences of not adhering to calls to release all Biafrans detained in prisons especially the leader of Indigenous people of Biafra, IPOB, Mr Nnamdi Kanu and Mr Benjamin Onwuka the leader of Biafra Zionist Federation, BZF. This is coming hours after the group's Militias eliminated a flying spy drone camera belonging to the Nigerian security operatives in the Bakassi Peninsula area.
Addressing newsmen in Uyo, Akwa Ibom State today, the Deputy Leader of BnL, Ebuta Takon said the January 23 ultimatum issued to the federal government to release Kanu, Onwuka and others stands "and would attract severe sanction" he said.
Meanwhile, Cameroonian Military have blocked it's maritime borders with Nigeria in Isangele subdivision of Bakassi Peninsula following the attack on Military spy drone by suspected Militant members of BnL. Report say travellers who have no ID card were not allowed to cross to the ceded area under Cameroonian control.