Finally, BP Puts A Cap On Well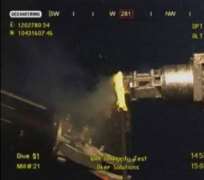 BP Plc conducted pressure tests on its blown-out Gulf of Mexico well on Thursday and said no oil was leaking into the ocean for the first time since the accident began in April.
As part of the test, BP shut off the valves to a newly placed containment cap. Initial results early on in the test showed that the cap had completely contained the flow from the ruptured deep-sea well, BP said.
BP's U.S. shares jumped 10 percent after the company announced that its test had managed to shut off the flow of oil into the ocean.
After a delay to fix a leak, BP began the test on Thursday afternoon on the cap that could stop all or most of the flow of crude that has been polluting the ocean and coastline since April 20 in the worst offshore oil spill in U.S. history.
The test, which could last between six to 48 hours, will show whether the cap can safely shut off the flow from the well if oil-capture vessels at the surface must disconnect.
Earlier in the day, the top U.S. oil spill official backed away from earlier assurances that the new cap would be used to completely seal the well until relief wells eventually kill it with heavy mud and cement.
Retired Coast Guard Admiral Thad Allen said the cap could possibly shut the well, but might also be used only to block the flow during emergency situations like a hurricane, when BP's surface containment effort would be suspended.
"The intention of the capping stack was never to close in the well per se," Allen told reporters in New Orleans. "The best reason to be able to shut in the well right now ... is it allows us to abandon the site if there is a hurricane."
"We can certainly consider shutting in the well -- that is a possibility and of course we would like to do that."
As the company pushed ahead on the spill control effort, U.S. energy company Apache Corp was moving forward on a possible $10 billion deal for some BP properties, including major assets in Alaska, CNBC reported.
Reports that Apache was seeking $6 billion to $7 billion for the purchase helped extend a rally in BP's U.S. shares, bringing them up 3 percent in mid-afternoon trade.