Mrs. Jonathan To Launch Own Pet Project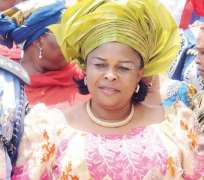 JOS, July 15, (THEWILL) - Wife of the president, Dame Patience Goodluck Jonathan was in Jos to commission the Foundation of the wife of the Plateau State governor, Mrs. Talatu Jang but promised to set up her Foundation called 'Women For Change Initiative' to enlighten women on the best ways to assist their husbands and children against social vices.
Mrs. Jonathan who arrived Jos around noon was received by the Plateau State Governor and his wife among other top functionaries of the Plateau State government.
The foundation of Mrs. Jang known as the Women Empowerment and Youth Foundation WAYEF was launched by the First Lady at an elaborate ceremony that held at the Foundation headquarters at Doi near Jos.
Over N30 million naira was realized at the launching.
Mrs. Jonathan in her speech commended the idea behind setting up of the foundation saying the provision of economic activities will serve to dissuade youths in the state from violence.
She said women should not fold their arms when they see their husbands or children engaging in any form of violence but to speak out against such for the betterment of the country.
"Some women if they see their husbands or children stealing, kidnapping, killing innocent souls they will keep silent they will not make any effort to stop them. '
She urged women in the state to ensure both their husbands and children shun violence and live in peace with one another for the development of the country.
"My ultimate goal in all parts of the country is to enlighten women and children to encourage their husbands so that we all live in peace with one another which brings about meaningful development."
Former head of state General Yakubu Gowon who was represented by Ambassador Yahaya Kwande at the launching commended Mrs. Jang for setting up the Foundation saying it would help in building the state and the nation as it would encourage women to work hard in the farms and in the markets to earn a living for themselves.