FAMILY BATTLES LUCILLE BALL SALE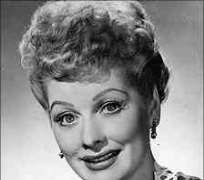 Lucille Ball's screen career spanned several decades
The daughter of legendary US TV star Lucille Ball has threatened to halt a sale of her effects, saying that it "prostitutes her memory".
Lucie Arnaz Luckinbill is contesting the auction of personal items by the widow of Ball's second husband.
Susie Morton, who has taken legal action to enable Saturday's sale to go ahead, claims Ms Luckinbill abandoned the items after Ball's death in 1989.
The actress is best remembered for her 1950s TV comedy I Love Lucy.
Among the items due to be auctioned include an address book, love letters, a Rolls Royce and numerous awards Ball collected during her career.
Exhibition
Ms Luckinbill, who is the daughter of Ball's first husband and I Love Lucy co-star Desi Arnaz, is asking for some of the items to be returned by Ms Morton.
She was married to Gary Morton, who was the husband of Ball from 1961 until her death at the age of 77.
Both women agree that Ms Ball's possessions were left to her daughter in her will, but Ms Morton maintains they were never collected.
Earlier this week, she went to court to press for the Los Angeles sale to go ahead, while Ms Luckinbill's lawyer said she will take legal action to stop it.
Ronald J Palmieri said: "To demean their true nature, and prostitute their value in monetary terms, is insulting to Ms Ball's memory and contravenes her express desire that these items were to belong to her daughter after her death."
Ms Luckinbill has said the possessions could form part of an exhibition in her mother's memory.