2022 Budget: Umahi Presents N145 Billion Proposal To State Assembly, Gives Priority To Capital Expenditure.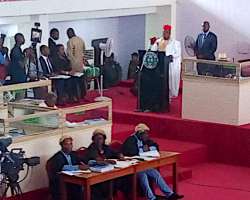 Governor David Umahi of Ebonyi State, has presented a budget proposal of Ome hundred and forty-five billion, Four Hundred and Ten million, Five Hundred and Ninety Seven Thousand, Seven Hundred and Twenty -three Naira, Forty Nine Kobo (N145,410,597,723.49) to the Ebonyi State House of Assembly.
Performing the constitutional requirement on Wednesday at the chambers of the House, the Governor noted that the proposal, tagged "Budget of Latter Rain" records 46.65 % increase from the revised 2021 budget put at Ninety Nine Billion, One Hundred and fifty Seven Million, One Hundred and Seventy One Thousand, One hundred and fifty two naira, sixty four Kobo (N99,157, 171,152.64).
The Governor explained that the 46.65% increase of the 2022 budget over the 2021 revised budget is due to the carryover of a large part of the expected receipts in the fiscal year to the next fiscal year.
He noted that apart from statutory allocation, financing of the budget was expected to come from Federal Government bridging finance of Eighteen Billion, Two hundred and Twenty Five million, three hundred and thirty six thousand, one hundred and three naira, Ninety two kobo (18,225,336,103.92) given to each of the 36 States in Nigeria.
Other sources would come from domestic loan of seven billion naira to fund 2022 budget deficit; the sum of four billion, three hundred and fifteen million naira (4,315,000,000.00) from the TETfund, SFTAS of Sixteen billion, seven hundred and Twenty seven million, seven thousand naira (16,727,700,000.00) and the sum of one billion covid 19 grant from world bank .
Umahi added: "while the proposed capital expenditurr is eight Nine Billion, seven hundred and sixty three million, seven hundred and seventeen thousand, two hundred and five naira (89,763,717,205) or 61.73% of total budget, recurrent expenditure is proposed to be fifty five billion, six hundred and fifty six million, eight hundred and eighty thousand ,five hundred and seventeen naira, sixty nine Kobo (N55,646,880,517.69) or 38.27% of total budget.
"This proportion of 61.73% capital to 38.27% recurrent (ratio of 1.6 to 1) is structured bearing in mind our determination to deepen our capital projects development especially completion of on going projects.
Gov Umahi further noted that his government would in 2022, focus more on empowerment, employment, education human capital development and infrastructure.
" We shall make effort to give more employment to our people from January 2022.
"That has increased our recurrent expenditure.
"We also have very committed plans towards the Empowerment of our people, not just cash transfer, but also setting up a number of SMEs for our people: that has also increased both our recurrent and capital expenditure.
"Apart from the cash transfer, and the NG - Cares programme of the Federation , we are definitely going to pursue industrialization, empowerme t and setting up businesses for our children .
"The Empowerment process is on-going and it is going to get expanded next year but I am very much convinced that by January 2022 the first tranche of the empowerment will be given out.
"The first set of employment will also be given out.
" So, we hope to engage about 5,000 civil servants: 2000 from Local government and 3000 from the State, and then, we hope to do more Empowerment.
"We have made a provision for payment of grautity especially from 2015 to 2021 and this will start in earnest.
"We also made under the 2022 budget , provision for the payment of all rentention funds for all contractors that completed their jobs.
"Let me mention that two new universities we want to start is a must and that is Aeronautical Engineering University and the University of ICT, Science and Technology.
" The Aeronautical Engineering University, subject to giving free land by Ezza nation, will be close to the Airport while the University of ICT, Science and Technology shall be sited in Izzi Local government" Umahi said.
He thanked the Assembly and executive council members, party leaders and stakeholders for their support to his administration quest to develop the state.
Earlier, while welcoming the Governor to the hallowed chambers, the Speaker, Francis Nwifuru, extolled the developmental strides of the Governor, which he hinged on prudent financial management and a cordial legislative - Executive relationship.
Nwifuru who commended the implementation of the 2021 budget by the Governor, encouraged him not to relent in delivering his campaign promises to the people.
The motion for the acceptance of the proposal for the deliberation of the House was moves by the House Leader, Victor Chukwu and seconded by Hon. Chukwuma Igwe, representing Onicha West state constituency.
The Budget later passed 1st and seconded reading at the floor of the house before adjournment of sitting to November 10.
Meanwhile, the speaker called on Min istries, Departments and Agencies to meet with the House budget committee for any issue concerning the budget before the next adjourned date.
He announced members of the committee to include House Leader, Victor chukwu.
Others included Chris Usulor, Ali Okechukwu, Arinze Chukwu, Chukwuma Igwe, Nkemka Onuma, Kingsley Ikoro, Oliver Osi, Chinwe Nwachukwu, Victor Aleke, Joseph Ununu, Chinedu Onah, Chinedu Awoh, Humphrey Ali, Kingsley Ikoro, among others.