Uche Nworah: A Leader With A Heart Of Gold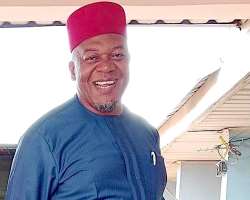 Among all African people, praise name or rather aliases are used to reflect what the bearer stands for. Praise names are very important means through which individuals in the society generally articulate and express their ideologies, boast about their abilities and accomplishments, as well as criticize that of other people. With particular reference to chieftaincy bestowment to men and women that have excelled in various areas of human endeavors in African communities, praise-naming as a pragma-semiotic act ties up with constructions and deconstructions of power, and so does have serious implications for the meanings attached to chieftaincy, as well as the roles of the chief in African traditional system. It is thus not unexpected that Chief Uche Nworah is traditionally revered to be Ezeudo Enugwu-Ukwu na Umunri. For the sake of clarity, Ezeudo translates to "King of Peace", and the cap aptly fits him for that is who he is.
Besides being the managing director and chief executive officer of Anambra Broadcasting Service (ABS), owned by the Anambra state government, he is everything that makes anyone sees him as a community leader, and that is who he is. To this writer, Uche Nworah is not only a man of peace and a community leader, he is also a leader with a heart of gold. You might have asked, what are the criteria that earned him the appellation, "A leader with a heart of Gold" in this context? The answer to your question cannot be farfetched when seen from an ecclesiastical perspective as expressed below.
Have you ever experienced love and compassion from someone right when you needed it? Have you laughed or rejoiced with friends or family when you wanted to celebrate something great? Or, have you ever had a friend cry with you in a time of great trial and grief? In Romans 12:15, God commands us, "Rejoice with those who rejoice, weep with those who weep." We are called to be the hands and feet of Jesus because his heart is filled with compassion for people. David exemplifies this truth in Psalm 30:11 when he says, "You have turned for me my mourning into dancing; you have loosed my sackcloth and clothed me with gladness." Without any scintilla of hyperbole, Uche Nworah has been spending his time encountering God's heart of mercy for his people. In fact, if there is anyone that has consistently and habitually been fulfilling the foregoing scriptural injunctions, and whose dispositions answer the foregoing questions, he is unarguably Uche Nworah.
In fact, as a child of God, he has been reaping divine blessings from God, and thus can also be described to be "Nwachinemere". As an apple in God's eyes, he has being called to community service; both at the state and national levels. He has being called to step away from the path of selfish ambition and sacrifice, particularly as he continues to sacrifice his time and money for others the way Jesus has divinely been doing for us. Often, his sacrificial lifestyle requires simply being there for those God has placed in his lives in whatever capacity they need. Colossians 3:12-13 says, "Put on then, as God's chosen ones, holy and beloved, compassionate hearts, kindness, humility, meekness, and patience, bearing with one another and, if one has a complaint against another, forgiving each other; as the Lord has forgiven you, so you also must forgive." God calls us to clothe ourselves with his heart. He asks us to be ambassadors for him by sharing his love with others. Philippians 2:3 says, "Do nothing from selfish ambition or conceit, but in humility count others more significant than yourselves." Without being panegyric, Uche Nworah is not a personality that is given to embarking on dry fasting and spending enormous time in the church as to going to seeming endless night vigils and crusades, but he has been fulfilling the scriptural injunctions as spelt out by God and His son, Jesus Christ.
His mien and disposition has made him so likeable that no personality ignores or berates him as far as social interaction is concerned. For instance, on November 2, 2021, Chiwetalu Agu, a well-known Nollywood star stopped by his office to rub mind with him. This, to this writer literarily makes him a mecca personified. Forty hours later, he engaged with relevant stakeholders ahead of the now concluded Anambra gubernatorial election that saw Prof. Charles Soludo of APGA emerged as winner. The engagement at the time saw him campaigning for the now in-coming governor of Anambra State. The engagements which was no doubt a consolidation of his previous campaigns for the in-coming governor equally took him to his village women where he convincingly resonated his trademark mantra, "Soludo all the way". Thus, throughout the few weeks ahead of the election, he was busy convincing the people on why Soludo remained the preferred candidate at the election.
While narrating his experience throughout the campaign period and after the election, he heaved a sigh of relief and said, "Ndi Anambra, let us please be magnanimous in victory. 2021 Anambra Gubernatorial election was hard fought, inch for inch, door to door and neighbor to neighbor.
"It pitted friends, brothers, sisters, colleagues and associates against one another. Nobody was willing to let off or concede any space. In the end, destiny prevailed. Ndi Anambra voted peacefully against all odds; insecurity, sit-at-home, presumed federal might, malfunctioning INEC BVAS device etc.
"As we wait on the electoral umpire INEC to do the needful, the results that have so far been announced give all lovers of progress, those who have the interest of Anambra state at heart enough confidence to start chilling their champagnes to celebrate the inevitable victory, foretold and awaited". Being satisfied with the outcome of the election, he embarked on solidarity visit to all those that supported APGA and Soludo at the poll, and the mission equally took him to his maternal uncle, Prince Fred Eduzor and his other maternal relatives at 'Obu Enugo', Avomimi village, Enugwu-Ukwu, the Obu of his late maternal grandfather, Eduzor Ifeagwu, Warrant Chief of Enugwu-Ukwu responsible for Akaezi quarters.
To this end, he confessed that before the 2021 Anambra gubernatorial elections that he had pledged that he will come back and kill a goat in the Obu if his people support APGA and Soludo.
He said, "I am on thank you visit to them for supporting APGA and Soludo last Saturday. I am here also to fulfil my promise because in Igbo culture, if you make a promise to the ancestors in the Obu and you don't fulfil it, 'Owa na afa'". Despite his tight schedule, as expected of an MD/CEO, a traditional title holder and community leader, he took time off to Umueri for the burial of late Mrs. Joy Anosike, mother of Senator Emma, Fidelis, Charles and Noel. This was followed with the presentation of his book, 'Media Practice and Security Challenges in South-East Nigeria', and then to ASUU Hall of Nnamdi Azikiwe University Awka for 2021 Zik's Memorial Lecture. At the event, he interacted with Ugogbuzuo and Odu Nkataukwu where he said Odu Nkata represented the Royal Father of the day at the event, Igwe Sir Ralph Obumnaeme Ekpeh, Eze Enugwu-Ukwu na Igwe Umunri, and also with High Chief Nwanneka Onwuasor (Amalunwaeze Awka), Chairman of BON Hotels.
November, unarguably being a loaded month for Ezeudo, saw him at Umunachi for the burial of late Mrs Nkechinyere Azotani, mother of his colleague Chuks Azotani, and recently at Ojoto for the burial of late Prof. Mrs. Bakky Adirika, wife of Sir Amobi Adirika, former Managing Director of Anambra Broadcasting Service (ABS). In the same vein was his presence at Agulu for the burial of late Dr. Chike Akunyili, husband of late Prof. Dora Akunyili who was his affiliate as an old boy at College of Immaculate Conception, (CIC), Enugu. As an energetic social man, he also few days ago shared thoughts with youths and students of Nibo town in their town hall as a special guest at the Annual Nibo Youth Dialogue. In fact, as a man with a heart of gold that is given to mourning and rejoicing with people as God directed, he was few days ago at Abagana to show solidarity with Rotarian Engineer Ifeanyi Aniagoh and the Aniagoh family as they celebrate the life of their late patriarch, Pa Ifeadinmesi.
So, how can you other Nigerians and "Ndi Anambra" live like Uche Nworah? How can they better "rejoice with those who rejoice and weep with those who weep?" It can only be possible by having the heart of gold like Uche Nworah has. In fact, it is only possible through seeing the incredible compassion and love God has for anyone. Now the question, "Will you be able to have his heart for others like Uche Nworah has?"
2 Corinthians 1:3-4 says, "Blessed be the God and Father of our Lord Jesus Christ, the Father of mercies and God of all comfort, who comforts us in all our affliction, so that we may be able to comfort those who are in any affliction, with the comfort with which we ourselves are comforted by God." We're meant to love others out of the overflow of God's love for us. He doesn't ask you to have compassion and mercy in your own strength. He knows those are gifts that come from the Spirit working in our lives. Man can do nothing in and of himself. To truly share God's heart everyone needs God's help, and that starts with simply spending time encountering God for who he is.
Being a man that has concern for the security of the people, he yesterday, November 29, 2021, participated in a meeting of Enugwu-Ukwu Security Council, towards the fashioning out of modalities for the security and defence of the community ahead of the Christmas festivities together with Omenyi (Prime Minister), Odu Nkataukwu (Deputy Prime Minister), Ugogbuzuo (Cabinet Secretary), Izaga (PG Enugwu-Ukwu), Ezeudo (member of the Security Council), Akalanri (Defence Minister) and other members of the Security Council.
Disclaimer:

"The views/contents expressed in this article are the sole responsibility of the author(s) and do not necessarily reflect those of The Nigerian Voice. The Nigerian Voice will not be responsible or liable for any inaccurate or incorrect statements contained in this article."