Let Court Decide On The Constitutional Right To Localized Policing Now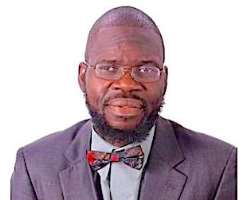 Prof. John Egbeazien Oshodi
It is time for a multistate lawsuit against the Buhari Administration over State Police set up. The refusal of the federal government to approve State policing particularly hurt people living in various States.
When people of different localities can legally and securely access timely policing, it's one of the safest protective procedures.
People of Non-Northern States overwhelmingly support localized police systems. This cultural perspective on the Constitution is important.
It's up to the States— not the President or Inspector General of Police — to make fundamental decisions regarding policing. Times have changed.
For far too long the debate among citizens, State executives and movements of legislative bills for the establishment of State or local police has been a recurring matter with no ending. Yet, nothing has happened, and insecurity across all localities continues to worsen.
The Higher Court needs to look at where this issue goes. Especially when the Court's role is to act as the "interpreter" of the Constitution.
It is time for the courts to tell us if the Constitution in its dynamic state protects State's right to be able to provide its own security regarding policing its residents and properties, independent of the national government.
States should sue the Federal government along with its Federal Ministry of Justice, Federal Ministry of Police, Nigeria Police Force and Police Service Commission.
Along with interested States other frequent critics and private stakeholders should file suit over Buhari's reluctance on this issue.
The multistate lawsuits which should be against the Buhari administration, should question the constitutionality of the federal government continued adoption of its adverse positions that maintains that only one Nigeria police force should exit.
Our type of Constitution is loose and dynamic meaning that it must evolve and adapt to new circumstances even if the document is not formally amended.
The lawsuit should be about challenging the federal government's decision not to give official approval to State policing.
The Nigerian nation is surrounded by over 200 million people, yet it is completely under policed with about 400, 000 police workers.
This number falls far short of the United Nation's endorsement of ratio 1 per 400 citizens.
The State lawsuits should ask the court to interpret the Constitution from the point of trying times and give way for interested States to have the independent authority to create its state police to better enhance security and preservation of lives and properties of its citizens.
On social, psychological and community grounds, it is a reality that the individual States are plagued with severe and continued insecurity ranging from kidnapping, armed robbery, burglary, murder, rape, child abuse, domestic violence, banditry, continuous abductions for ransom, unembellished denial of physical liberty, torture, involuntary pregnancy, forced marriage, killings in communities and malicious ruining of lives and properties.
These criminal acts are consuming various States unlike the Federal headquarter, Abuja.
The States governors cannot remain helpless regarding commanding swift and decisive action to hold criminals accountable.
In our current world of technology and social media, the courts would agree that each State on a cultural and regional level will be better off creating social media sites that will provide its residents with immediate and timely information concerning safety and be able to disseminate information intended to increase residents' awareness of local policing activities.
The federal government as a loose and distant body, remains lacking on what dynamics and systems to use to adequately reduce local or home-based crimes.
The States can easily recruit and deploy police officers from their various local areas who understand the area, terrain, dialects, behaviors and attitude, and entities of the residents, as well as provide tight security to properties and institutions.
There is need for the courts to take into consideration the essentials of local tradition in policing.
This is the case of the almost 20-year-old Kano State Hisbah Corps, known as religious police force, that has extended its rule to many Sharia based Northern States. In its status as a local and vigilante police force, it has gained acceptability amongst the people and support from Sharia based States governments.
The Hisbah Corps due to its local and regional contents in policing it has somewhat become a model for new secular type security outfits, like Operation Amotekun in Western Nigeria, and in the East, there is the Ebubeagu.
But they lack full blown police authority and power. As policing powers, remain vested solely in the federal government within Nigerian federalism.
The Governors as defined in the 1999 Constitution of Nigeria, like the President who is entrusted with the Executive Powers of the Federation, the Governors, equally have such executive State power that allows them to independently act as the Chief Security Officer in the State.
By this way, State chiefs of police and all police officers must take orders from the Governor in times of crisis or no crisis.
The Nigeria Constitution generally, adopted the United States Constitutional system where Local and State policing are in operation and no one State needs operational permission from the President or a federal police chief to act.
The State police should have along its side independent State-run judiciary, Corrections, and legislature to wholistically function well.
We are no longer in the world of colonial practice of police as indicated in the 1943 Police Act that allows for one police force which post police officers across different regions.
To continue in that manner is counterproductive especially in today's culture of Nigeria that is shaped by multiple ethnic groups, has over 500 languages and over 1000 dialects and ethnic groups.
With a viable community, culturally and environmentally oriented policing across each State, the military and if need be, a federal type police structure can spend their time defending the nation and protecting vital national interests. And the federal police should be reoriented to function as a specialized force responsible for duties like protection of the Capital, boundary protection, railway policing and aviation security. It is time for States to be States in the true sense of regional and local safety. The Court should come in now.
John Egbeazien Oshodi who was born in Uromi, Edo State in Nigeria, is an American based Police/Prison Scientist and a Forensic/Clinical/Legal Psychologist, wrote in via [email protected]
Disclaimer:

"The views/contents expressed in this article are the sole responsibility of the author(s) and do not necessarily reflect those of The Nigerian Voice. The Nigerian Voice will not be responsible or liable for any inaccurate or incorrect statements contained in this article."