The 2021 French Literature, Prix Goncourt to Mbougar Sarr was most honest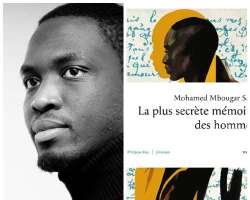 On third November, the top French literature prize, known as Prix Goncourt was awarded to the 31 years old Senegalese novelist Mohamed Mbougar Sarr. He was the first writer from sub-Saharan Africa with a black skin to be awarded France's oldest and most prestigious literary prize, the Prix Goncourt.
However, the prize is just best among equals that have come to Africa in the year 2021.It started with Jennifer Makumbi winning a top British prize for her excellence in building well-articulated narrative prose Kintu. Then it came to Tsitsi Dangarembga who in early October won the Top German Peace Prize organized by Germany book publishers. She was recognized for her work maverick literary work and human rights crusading efforts. Later on, Mahmood Mamdani won the British top prize for his work, Neither Settler, Nor Native. In the same month of October, Abdulrazak Gurnah was announced the winner of the 2021 literature Nobel Prize for his firm literary criticism of Germany colonialism in Tanzania and the anti-elitist Zanzibar revolution led by Sheikh Karume in the mid of the last century. In the same year , the Rwandan novelistScholastica Mukasonge, the author of Our Lady of the Nile,Cockroaches, The Barefoot Woman and Igifu, was awarded the prestigious Simone de Beauvoir Prize for Women's Freedom for 2021. Hence, one can say the year 2021 has been the year of African writers shinning at the global stage. On learning that Abdulrazak Gurnah of Zanzibar has won the 2021 literature Nobel Prize, Wole Soyinka remarked that the literature prize has come home. Those of us who come from Africa, we have moral duty to laud and appreciate the efforts of our brothers and sisters who have worked hard to put the literature from Africa on the world map of culture.
Above all else, the Prix Goncourt to Mouhamed Mbougar Sarrwas the most honest, most genuine and well reflected literatureprize to come to Africa. It was very honest because Sarr is a Muslim and an African with a black skin. He is a true package of African heritage in his black skin. He is an epitome of what Steve Biko called black consciousness. But, one must not fail to recognize strong sense of respect for diversity in the French literature prize for recognizing the work of Sarr, an African Muslim, while French Nationalism is just fresh in the pangs of the terrorist bombing of Charlie Hebdo. It is the accolade that must equally go to the Swedish academy for selecting Abdulrazak, a Muslim for 2021 literature Nobel Prize on the backdrop of violent relationship between Islam and the West.Thus, given that two Muslims from Africa, Sarr from the Senegal, on the Atlantic coast of Africa and Gurnah from Zanzibar, on the Indian Ocean coast of Africa have won the top-most European literatures should not confuse the world into thinking that Islam is African heritage. No, just like Christianity and Hinduism, Islam is a foreign system of faith in Africa, it is not part of African culture the way Ali A. Mazrui mistakenly called it part of triple African heritage in his Reith lecture. Thisis so given the historical fact that Africa is not a continent of settlers, it is a continent of natives with black skins led by the black-consciousness whenever it comes to matters of Africa'scultural and intellectual identity. Black consciousness is not conceived out of selfish reasons, but it is a historical and psycho-social milestone of the people who have survived five centuries of enslavement and two centuries of subjugation to colonial brutality. If one is to compare the causes, he or she is to point out that the forces that produced Jewish consciousness are the same forces that produced African consciousness.
If we borrow logic of extension to carry further this context of thought, then it will be logical to note that the above is the reason why the Nobel Academy cannot convince the Jewish community in Israel by giving a Nobel Prize to a black man or Indian, or Arab or a Russian living in Israel and writing in English that it is recognizing Jewish literature. The point here is, a black man who lives in Israel writing novels in English cannot claim to be writing Jewish literature. The same way an Arab man or Indian man living in Africa and writing novels or plays or even poetry in English cannot claim to be writing African literature. Thus, if an Indian living in Africa and writing in English wins a literature Nobel Prize, then he has won a prize for writing Indian literature not African literature.
The broad logic to the above argument is based on the literary theory of authenticity as once argued in an essay by Mugoma waNgugi, in which he argued that a white person does not have authenticity in the conscient to speak for black people through literature, similarly, an Arab and an Indian writer living in Africa does not have any morally justified authenticity to write for African consciousness. One reason is that, black or African consciousness is rooted in the history of slavery and colonialism, yet the Arabs enslaved Africans, Indians helped Arabs to enslave Africans and also Indians helped the Europeans to colonize Africans, thus they cannot speak for cultural consciousness of Africa has expressed through literature and art. Thus, I want to fault the Literature Nobel Prize committee for selecting Abdulrazak Gurnah for 2021 literature Nobel Prize by saying that he has been writing African literature. Abdulrazak Gurnah is a son of parents from Yemen, his parents came to Zanzibar to buy black slaves, and then they settled in Zanzibar near the source of slaves. They gave birth to Abdulrazak Gurnah, they used money from slave- trade to take Abdulrazak Gurnah to school. This is when he made it to writing Arabicliterature in English, but not African literature. I also think that it is the time to inform the world that African literature in Tanzania is written in Kiswahili not in English.
Thus my dear reader, the French Goncourt prix in the year 2021 was more honest in recognition of African literature, just as the Germany peace prize to Tsitsi Dangarembga has done. We salute them for their soul labour.congratulations.
Alexander Opicho writes from Lodwar, Kenya [email protected]