Law Enforcement Agencies Should Aim To Investigate, Arrest, And Prosecute Judges For Suspicious Injunctions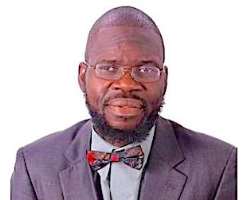 Prof. John Egbeazien Oshodi
Pointing from the lens of legal psychology it could be said that Judges are not Kings, and law enforcement officers are not Subjects to the courts.
The work of law enforcement agencies suffers irreparable harm through the effective denial of their constitutional and statutory rights to investigate cases they deem relevant to curtail illegal acts.
In most democracies, courts can issue an administrative stay or preliminary injunction sought by an aggrieved complaint. It is not unusual for a judge to issue temporal injunction in response to those that seek such stay, as such injunction is to protect the court's jurisdiction to address petitioner's complaints and should not be seen in any way as a ruling on the merits.
In a young democracy like Nigeria there should be real concern when separation of powers is trampled by one of the arms of government.
When an arm of the government interferes with the duties of another the potential harm to the public is huge as our democratic institutions must be allowed to do their work for effective growth of our democracy.
There is nothing wrong with judges periodically issuing preliminary injunctions as such moves are intended to give the court time to fully consider petitioner's arguments against a civil or criminal investigation.
Over and over, and for several years in a democracy like Nigeria that was factually born in 1999, the judiciary is filled with judges involved in indiscriminate granting of orders and injunctions.
At various points in the life of the judiciary, many Chief Justices of Nigeria have called on judges who indulges in such acts to stop, yet the practice continues with no real consequences.
It is now known that many on the judiciary have made the courts shopping centers where questionable and silly injunctions are issued at will.
These types of judicial abuses of court orders and indiscriminate issuing of court orders are openly jeopardizing the work of the law enforcement institutions and undermining the capacity of professional investigative agencies to handle internal matters.
For example, policing bodies like the Economic and Financial Crimes Commission and the Independent Corrupt Practices Commission are charged with the responsibility of enforcing laws that has to do with criminal acts that are financial in nature. Many times, they cannot do their work effectively and timely due to unusual interference from some judges.
It is high time that to encourage whistleblowers with credible evidence of judicial officers' abuse and misuse of power to come forward with anonymous or confidential reporting, these court employee of conscience with anonymous or confidential valid reporting should receive rewards and remedies for retaliation.
This will help law enforcement agents to monitor and raid strongly suspected judges' home and offices, and those of their associates. The awareness of whistleblowers sends a clear message to potential financial fraudulent judges, lawyers, and accomplices to always behave professionally.
It is now gotten to a situation where law enforcement agencies should start ignoring arbitrary restraining orders on their agencies and carry on with investigating and prosecuting persons under their watch.
In fact, Judges issuing suspicious and unusually favorable temporal or fixed injunctions are engaged in obstruction of lawful investigation, as such should face arrest and prosecution, and possible incarceration. There is no need for an arrest warrant, if the law enfacement agent have probable cause to make the arrest.
Also, Judges making outrageous decisions on injunctions should be sued for causing distress on law enforcement agencies. Such judges should not be afforded the usual judicial immunity that protects those on the bench.
Undoubtedly, unnecessary injections from overbearing judges gives further freedom for dishonest individuals to block arrest, investigation, and prosecution.
Thereby, rendering criminal law unproductive, and ultimately democracy and society suffer.
In the current age of technology there are now mapping and tracking systems sophisticated enough to detect every form of dishonesty and bad behavior, such tools should be used to generally access locations of adjudication and even the whereabout of suspicious judges, their go-between friends, regarding engaging in improper conduct and abuse of power.
Democracy suffers when judges who broke rules or oaths remain on the bench. Many Judges have repeatedly escaped public accountability for misdeeds that have victimized law enforcement agencies and their officers. It is worth noting that Judges and magistrates have no special immunity from arrest.
The National Judicial Council that oversees judges is not aggressively indicting judges violating Nigeria's code of judicial conduct. In a young democracy like Nigeria, Judicial misconduct or misbehavior has the potential to erode trust in the courts and, absent tough consequences, judges will then be allowed to behave with impunity.
In many and different ways, judges who engage in excessive or suspicious injunctions against law enforcement agencies could be directly or indirectly involved in public corruption, an area that is a top criminal investigative priority for the Economic and Financial Crimes Commission and the Independent Corrupt Practices Commission.
Yes, courts can decide on the constitutionality of laws from the legislation or decide on the right and wrong of executive actions, but such decisions should make sense for democracy to strive.
John Egbeazien Oshodi who was born in Uromi, Edo State in Nigeria, is an American based Police/Prison Scientist and Forensic/Clinical/Legal Psychologist. A government Consultant on matters of forensic-clinical adult/child psychological services in the USA; Chief Educator and Clinician at the Transatlantic Enrichment and Refresher Institute, an Online Lifelong Center for Personal, Professional and Career Development. A former Interim Associate Dean/Assistant Professor at the Broward College, Florida. The Founder of the Dr. John Egbeazien Oshodi Foundation, Center for Psychological Health and Behavioral Change in African settings. In 2011, he introduced the State-of-the-Art Forensic Psychology into Nigeria through N.U.C and the Nasarawa State University where he served in the Department of Psychology as an Associate Professor. The Development Professor and International Liaison Consultant at the African University of Benin, and a Virtual Faculty at the ISCOM University, Benin of Republic. Founder of the Proposed Transatlantic Egbeazien University (TEU) of Values and Ethics, a digital project of Truth, Ethics, Openness. Author of over 40 academic publications/creations, at least 200 public opinion writeups on African issues, and various books.
Prof John Egbeazien Oshodi, a forensic psychologist based in the United States, wrote in via [email protected]
Disclaimer:

"The views/contents expressed in this article are the sole responsibility of the author(s) and do not necessarily reflect those of The Nigerian Voice. The Nigerian Voice will not be responsible or liable for any inaccurate or incorrect statements contained in this article."