Andy Uba's False Hope and Why Soludo Won.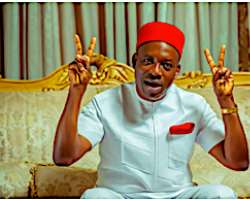 In the aftermath of the just concluded Anambra State gubernatorial election, several articles and opinion pieces have been written on the absurdity of the APC candidate, Senator Andy Uba, going to court to challenge the outcome of the election, but none have written on why Professor Charles Soludo actually won.
Andy Uba came third in the election, behind Valentine Ozigbo, the PDP candidate. It is an open fact that Governor Hope Uzodinma, a staunch supporter of Andy Uba, is the one pushing for this ill-advised move. Maybe because of the travesty of justice/ judgement that Hope Uzodinma, a candidate who came fourth in an election, got at the supreme court that made him the Governor of Imo State.
That judgement generated a lot of condemnation from both local and the international community, and almost made a mess of the hallowed chambers of the Nigerian judiciary, particularly the supreme court.
It is obvious that Senator Andy Uba is believing that he would obtain such strange judgement also from the courts. But, he forgets that Anambra State is not Imo State, and that the dynamics are different.
From comments emanating from the Andy Uba campaign organisation, it is easy to discern that one of their argument is hinged on the fact that certain APGA chieftains defected to the APC prior to the election, and for this, they are querying how APGA would still have won the APC after these defections.
It is quite ridiculous that Senator Andy Uba and his campaign team believe that the featherweight individuals he poached will determine the voting pattern of a entire community, LGA, or Senatorial District.
This was why they were banking on those that defected from APGA to APC to win the election for them, but from the outcome of the election results, it shows that these individuals either had zero political value or that they played a fast one on Senator Andy Uba. If, based on popular belief, money had exchanged hands to facilitate their decamping, this writer advices Andy Uba to ask for full refund of his shit load of money from them because they hoodwinked and sold him a dummy.
What Uba and his team does not know is that Soludo's emergence as the governor-elect is no magic though it might seem like one to Senator Andy Uba and his few supporters.
For the past 10 years, Professor Charles Soludo has been in Anambra State embarking on grassroot development programmes. It was this strategy of his that endeared him to the people of the State and they rewarded him with their votes during the gubernatorial election.
While Andy Uba who hasn't flown a commercial flight since 1999 was busy flying around with private jets in Abuja and elsewhere. In the last 10 years and within this same timeframe, Professor Charles Soludo relocated to his hometown, Isuofia, and have been operating from there for the last ten years.
This move afforded him the opportunity to feel the pulse of his people and understand their needs.
It is this strategy that won the election for Professor Charles Soludo and confused Senator Andy Uba even more into chasing shadows.
The result of Soludo's home grown politics created a new insight for Anambra communities that introduced and embraced crowd funding, via their various town unions and president generals, to raise money in support of the Soludo campaign.
This pattern also reflects in the current trend in most of the communities in Anambra State, where local communities are collectively hosting victory parties every other day in preparation to the build-up to the March 17, 2022 inauguration of Prof Soludo as Governor of Anambra State.
This writer is of the view that rather than head to court to embarrass himself further, Senator Andy Uba should show sportsmanship by joining other candidates in congratulating Professor Charles Soludo.
As it stands now, of all the political parties and observers, both local and international, that monitored the election, Senator Andy Uba is the only one that has not congratulated Professor Charles Soludo for winning an election that has been adjudged by everyone to be credible.