The Case Of Prof. Felix Anyaegbulam: Don't Ignore Abuse! Stop Child Sexual Abuse!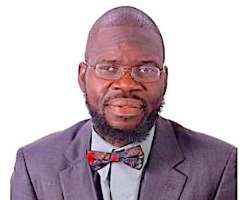 Prof. John Egbeazien Oshodi
The Nigerian media on Sunday of November 21, 2021, as usual reported another incident of child sexual abuse; in the pmnewsnigeria.com, it was titled, "Police nab Prof. Felix Anyaegbulam for allegedly defiling minor"; in the Vanguard Newspaper online the story was titled "Police arrest AE-FUNAI Professor of Geophysics for allegedly defiling his house help in Ebonyi" and the newsnigeria.com.ng reports the story as "Prof Anyaegbulam arrested for defiling 13-year -old maid."
The alleged incident involved one Professor Felix Anyaegbulam, a lecturer of Geophysics at the Alex Ekwueme Federal University, in the Ikwo Local Government Area of Ebonyi State.
Faithvin Nwancho, the State coordinator, for Gender-Based Violence office (GBV), helped in reporting the incidence to the police.
The child sexual victim is reportedly a 13-year-old girl who serves as a domestic helper, which is a form of child abuse given her age.
The professor was described as a 'repeated' child sexual violator, which is a common personality characteristic of sexual abusers.
The State coordinator notes that "This Professor at the AE- FUNAI has been having sex with the 13-year-old girl. The girl stays with him, but every blessed day of this girl's life, this man violates her sexually."
It was stated that even when the matter was first reported to the police by the State Gender-Based Violence taskforce Anyaegbulam, in no time he was released.
This is not surprising in a society like Nigeria where the police and the courts have not been known for being aggressive and applying protective measures in their moves against criminal sexual offenses.
With more pressure on the police authorities from Nwancho, and the office of the State Gender-Based Violence taskforce, Anyaegbulam was re-arrested and detained.
His rearrest is very important as he has been reported to have sexually abused and impregnated another teenager which led to the girl dropping out of school.
It was reported that Anyaegbulam was still in the police custody at least at the time of this media report while a medical screening is reportedly being done on the child.
Under normal circumstances the suspect especially an alleged child molester like Anyaegbulam should appear in front of a magistrate/judge within 24 hours of his arrest. Or at a very reasonable time. And should he be released on bond into the community and be back to his residence, the university must instantly place him on temporal leave. And he must not be allowed to be around children and younger students.
Generally, upon being released from police custody and charged to court, if he would be allowed to remain in his residence, in his capacity as a reported child molester, the court must place some type of monitoring on him.
This is important because as a repeatedly reported child predator and sexual abuser, he is likely to suffer from peculiar characteristics.
They are usually very impulsive and tactfully prey on vulnerable young people, they like girls who are needy in terms of financial and quality home care. They suffer from unsatisfied close or distant spousal or intimate relationship and use children as sexual coping tools. They have low inhibitions and find ways to justify their actions.
They tend to target children with attention, gifts, and "love" especially if the offender is in a lonely state of life, such as not constantly having a wife or spouse in the residence. Offenders like him can be the most unsuspecting people to suspect, due to being a person of higher status.
They can be very deceitful by using their status to manipulate children and those that trust them.
Offenders are often attracted to the educational surroundings and faith communities where children and young students entrusted into their care become victims.
We don't know how this case will end especially in a society like Nigeria where for far too long, sex offences continue to soar, due to longstanding failures of families, police, investigators, the courts, policymakers, and legislatures to act seriously.
I will not be surprised if Anyaegbulam confesses, as child sexual abusers are known to generally confess to sexual offenses against children.
Making sure the government has a safety and therapeutic plan is important for this child. Child abuse in Nigeria continues to negatively affects the future of children.
The practice of child worker in the homes of non-biological parents because that child comes from a needy family must stop as it keeps child sexual predators in "business."
Poor parents need help from the government so that they don't have to leave their children to homes where they are sexually violated by adult predators.
The lack of competence, irresistible attendance to corruption, and indiscipline among the law enforcement and court officials are further traumatizing children whose cases are ignored.
The law enforcement agencies and the courts need ethical and empathic training to reduce the often disregarded and lack of interest to protect innocent children.
For those adults guilty or who confessed to criminal child sexual abuse, imprisonment and or in prison therapy, has proven to be effective in reducing the risk of re-offending. Every State in Nigeria must welcome or partake in Sex Offender Registry! It saves lives.
Nigeria is known to have so many laws to protect persons against sexual molestation and abuse, yet sexual violations persist at a crisis level as the laws are not practically enforced.
The Child's Rights Act, 2003 makes provisions for the protection of a child when it comes to sexual assault and defilement but based on religion in the North and traditions in the south the law has not been completely domesticated. A big shame.
If Nigeria continues to allow the likes of Anyaegbulam to be loose, as described by his reported history of behaviors to children the sexual and psychological damages caused to children ultimately could translate into a troubled and unhealthy society.
When Nigeria has more of the likes of Mrs. Faithvin Nwancho and her team who take child violations seriously, lives are protected and saved. We need more of Nwancho's program approaches across the country.
Prof John Egbeazien Oshodi, born in Uromi, Edo State, Nigeria is an American based forensic/legal/clinical psychologist, part of his work involves sex offender evaluation for the Sexually Violent Person, Sexually Violent Predator, or Sexually Dangerous Person. He wrote in via [email protected]
Disclaimer:

"The views/contents expressed in this article are the sole responsibility of the author(s) and do not necessarily reflect those of The Nigerian Voice. The Nigerian Voice will not be responsible or liable for any inaccurate or incorrect statements contained in this article."