WONDERS OF VICTOR UWAIFO'S TOURIST PLAZA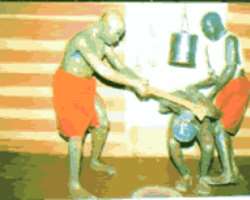 The signboard loudly proclaims it – Revelation Tourist Palazzo: The good, the bad, the ugly and the beautiful. Come over on a journey through historical events of tragedy, customs and horrors…
Revelation Tourist Palazzo is a tourist centre whose concept and content are amazing.
Located at No.4, 6, 8, 10 and 12, Victor Uwaifo Avenue, off Ekenwan axis by College Road, Benin City, the centre is the product of mystical and multi-talented Professor Victor Uwaifo, the highlife maestro.
Viewed from the outside, the building houses an array of collections of priceless art works and antiquities. It looks simple and ordinary, except for the imposing constructed aircraft, which to a first time visitor, looks like just an artwork, but which turns out to be part of the building from the inside. It is well furnished and decorated like the real aircraft. An other noticeable thing in the compound, is the Vision Car' constructed by Prof. Uwaifo from glass fibre materials.
As the visitor is ushered into the building, the journey into the mystery world of art and collections of antiquity begins as one comes in contact with an array of paintings of prominent personalities across the world. In this hall, one also finds among other things, the two-in-one guitar constructed by the music maestro, Prof. Victor Uwaifo and an old gramophone used by Uwaifo, the professor's father.
Prof. Uwaifo was said to have played the gramophone as a young man and it is said to be one of the things that inspired him into the music industry. As the visitor leaves this section of the tourist palazzo, he steps into the slave market section, which captures the slave trade period in Africa, with artwork depicting chained slaves ready to be shipped into Europe and the Americas, even as slaves are also shown in a documentary on television being carted away in a brutal manner on the high seas like goods.
Several other sections of the tourist palazzo aptly captured the ancient Benin society through the centuries to 1897 British invasion of Benin with various artworks showing different scenes. These include Captains Philips and Moore who tried to banish Oba Ovonramwen in Calabar. Other aspects of Bini cultural and traditional life are all captured through different art works, including the kingship system.
Apart from the music studio with good acoustics, there is also the chamber housing mammy water image with water fountain and Prof. Victor Uwaifo's effigy with guitar to commemorate his encounter with a mammy water at the Lagos Bar Beach in 1966. Uwaifo who was then an employee of the NTA Lagos, was said to, as part of his routine, have visited the Bar Beach after work and was relaxing while playing his guitar when suddenly a mammy water, appeared and started swimming towards his direction.
An obviously terrified Uwaifo reportedly attempted to flee on sighting the water creature but was forced to run back to retrieve his guitar, when the mammy water reportedly called his name and told him 'if you see mammy water never you run away'. That instruction to Uwaifo led him to release the hit track 'if you see mammy water, never, never run away' in an album in 1966.
At the Revelation Tourist Palazzo, there is also a souvenir place where historical books, carvings and bronze art works can be obtained, as well as audio musical cassettes. Indeed, the place, apart from being a mystical and amazing concept, is a collection of living history of generations packaged and presented in a manner that cannot be described by words.