AGGRIEVED COUPLE VOWS TO DRAG LAWYER TO PUBLIC DEFENDER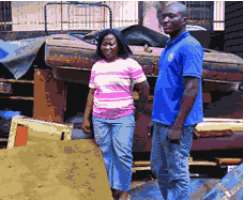 According to Mrs. Ngozi Nwozor, the caretaker/agent of the three-storey building, Mr. Chris Ekwunor, did not serve them court summons before forcefully ejecting them on July 8, 2010. Ekwunor, however, refuted the allegation of forceful ejection. Ngozi narrated how her husband, Nwanneka, their two children and two housemaids had been sleeping in front of the building located at Oladipo Street, Olodi-Apapa, after their eviction.
'The lawyer refused to listen to pleas from our neighbours and other concerned residents. Even, the Sheriff evicted another tenant in the compound. After many people had begged him, he invited us to his office. We have lived in that flat for the past nine years. Now, the lawyer is asking us to pay N250, 000, as agent fee, which a new tenant was supposed pay.
He said after that, we should pay for another two years. Rent for two years amounts to N480, 000, in addition to the N250, 000, which means we have to pay him N730, 000. My relatives begged him to accept the N150, 000, as agent fee and one-year rent but he refused. In 2009, we paid N240, 000, but he refused to give us receipt, saying he didn't have any, only to give it to us on July 11, 2010, after ejection.
The couple alleged that their caretaker came to their flat which is on the second floor, with a Sheriff, policemen and 15 others to eject them. The embattled woman was said to have explained to the Sheriff that they were only owing for three months, which is N60, 000. Daily Sun was told that the Sheriff even advised them to pay the money to him, which they did. He allegedly documented the payment and signed on the court document he brought for their ejection.
'We paid the three months rent (N60, 000) to the sheriff, who also endorsed it on the ejection paper. But before I could finish payment, over 15 people they came with removed some of our property from the flat. The Sheriff later promised to open the door for us, but he did not.' The businesswoman alleged that she lost many properties, including N1.8 million (cash), gold trinkets valued at $10,000.
'I wanted to travel abroad for business. I was paid N1, 085,000. I only spent N5, 000 out of it. Our DSTV smart card is also missing. I've been living in this house for nine years now,' the distraught woman told Daily Sun. Her husband said that all he wants is justice, since he was not served any summons by any court of law before the ejection. 'I will go to the office of the Public Defender to report the lawyer. All I want is for a law court to decide. I want justice,' Nwozor said.
Ekwunor told Daily Sun in his office that the Nwozors were duly served a letter from the court. He claimed that the N60, 000 they paid to the landlord was mesne profits (damages for trespass or damages which arise from the particular relationship of landlord and tenant).
Explaining further on the mesne profits, Ekwunor said: 'When the notice to quit expires, what the tenant pays is mesne profit, not arrears or rent. Rent or arrears presupposes existence of subsisting tenancy as opposed to determined tenancy, which subsequently gives rise to mesne profit. As at the time the court went for execution, the writ of fife carried, amounted to over what they had paid. Some were receipted even after their departure,' Ekwunor alleged.