Aguata Rejects APC And Andy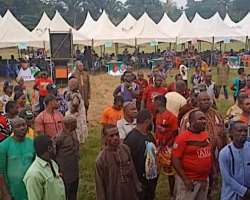 In a move seen as a sign of what is to come for the tainted candidate of the All Progressives Congress (APC) Sen Andy Ubah and his party, the people of Aguata Local Government Area today refused to come out for his campaign despite money paid to agents to mobilise people even from the nearby market.
The rejection was coming against the background of defiance of agents of destruction paid to kill and maim their kits and kin for the sake of power when they struck yesterday at Ekwulobia to disrupt the All Progressives Grand Alliance(APGA), but the people still trooped back to the rally ground to welcome their son and APGA Candidate, Prof Chukwuma Soludo and APGA faithful. The rejection of APC was so glaring that the APC rally was delayed when few people turned up and spirited attempts were made to persuade traders in the area to attend for a fee failed.
http://cdn.thenigerianvoice.com/images/content/10302021113519_unknown44.jpeg
Reacting to the development, a businessman and Stakeholder in Ekwulobia, Chief Caleb Umenwa said that ndi Anambra are wise enough to know who the traitors are. " How can we pretend that the young man who calls himself 'Andy' is serious. The only time he comes out is during elections, yet no result to show for it. We don't want them here."
In the same vein, Chukwudi, a trader, confirmed that they offered N5,000 to each for us to attend the rally but we refused. "APC? Tufia kwa! They want to come here and destroy our state. We reject them biko."
On the claim that the rally was cancelled, Maryrose Okeke stated: " Those people are liars. Some people went there to collect the money they want to share simple. They should tell us the people who came to shoot in the market yesterday. After all, APGA still campaigned. They should be ashamed." She insisted.
Sources close to Sen Ubah said that he was livid with rage on arrival and was overheard shouting on the phone: "Even ndi be anyi." Andy hails from Uga, a town in the LGA but many rejected his plea to turn up because according to them, "he is a very selfish politician."
Attempts to reach the APC Spokesman was unsuccessful as he was said to be busy in an emergency meeting after they hurriedly put out a notice of cancellation.
See photos below.