How PDP, APC Lawmakers Almost Exchanged Blows Over Impeachment Of Plateau Speaker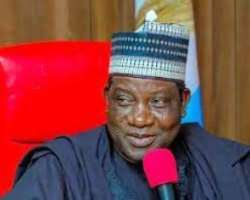 The Speaker of Plateau State House Assembly, Hon Abok Ayuba Nuhu, has been impeached. He was replaced with Sanda Yakubu, who hails from Pingana constituency of Bassa Local Government Area of the state.
Sixteen out of the 24 members of the assembly voted in favour of the impeachment at plenary on Thursday. Our correspondent reports that the rumors on the impeachment of Abok started a week ago when press releases and write-ups went viral on social media. At about 5:30 a.m, on Thursday, members of the assembly, including those of the PDP, converged on the chamber of the house.
The lawmakers almost exchanged blows when the issue of the impeachment was tabled. PDP members, who were loyal to the speaker, took the mace to prevent the impeachment. But the APC members, who were in the majority, impeachment, dragged the mace and placed it in its position, and went ahead with the process.
Our correspondent reports that before members of the house converged on the house, the road leading to the assembly was blocked by security operatives. Daily Trust reports that there were grudges between Governor Simon Lalong and the impeached speaker following the attack in Yelwan Zagam, the community of Jos North, where people were killed. After the attack, the speaker started criticising the governor openly. He also stopped attending public functions in the state. (Daily Trust)