FG DISOWNS MINISTER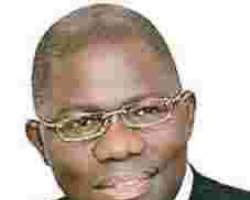 Babalola
The Federal Government yesterday distanced itself from the comment credited to the Minister of State for Finance, Remi Babalola that the Nigerian National Petroleum Corporation (NNPC) was bankrupt.
Babalola was quoted in the papers to have said NNPC was owing N450 billion, but the corporation had in a swift reaction debunked the claim, insisting it was not incapable of meeting its financial obligations to partners and stakeholders.
Babalola had said: 'NNPC is insolvent as current liabilities exceed current assets,' adding that 'NNPC is incapable of repaying the N450 billion owed to the Federation Account unless it is reimbursed the N1.156 trillion (in subsidies) it has requested from the Federal Ministry of Finance.'
In a swift reaction, the General Manager, Group Public Affairs, NNPC, Dr. Levi Ajuonuma, had said: 'We cannot be classified as insolvent when we have a healthy cash flow and we can pay for our crude and product importation obligations. While it is true that the national indebtedness to the NNPC is putting pressure on our operations, nonetheless, we are able to meet all our obligations. We therefore, cannot be said to be insolvent.'
He explained that the corporation was being owed N1.156 trillion by the Federal Government as a result of petroleum subsidies, which, if reimbursed, would enable the NNPC to offset the N450 billion debt being owed the Federation Account Allocation Committee (FAAC).
Addressing State House Correspondents at the end of the Federal Executive Council (FEC) meeting that lasted just an hour, in Abuja yesterday, the Minister of Information and Communications, Dora Akunyili, reading Federal Government's statement debunking the claim, maintained that 'NNPC, from the auditor's account is a going concern and does not have solvency issue as a corporation.
Therefore categorically, NNPC is not insolvent.'
Akunyili, who was joined by Minister of Finance, Olusegun Aganga and Babalola, (who remained speechless throughout the briefing) added, 'given the nature of NNPC, there are regular transactions between the Federal Government and NNPC and as a result there are always outstanding balances between the corporation and the Federal Government.'
In attempting to justify the solvency of the corporation, Aganga said the transactions referred to by Babalola were just two out of the numerous outstanding balances between the Federal Government and the NNPC, noting that those did not give a true picture of the financial state of the corporation. According to him, 'we have so many different transactions between the NNPC and the Federal Government, in some of the balances, it maybe a daily balance and in another, it may be a trade balance, you need to make all of these things up.
'What you saw yesterday was just balances arising from two types of transactions that we have made and that was the point they were trying to make yesterday (Tuesday), so, it is incomplete and it doesn't give you the complete picture, once reconciliation is done, payment goes back and forth, between the two entities.' Aganga noted that 'the payment to NNPC we made is done regularly, but as you know NNPC as a going concern is involved in all the joint ventures we have in the country, is involved with all international oil companies (IOCs), we still have all the wells and all other parastatals related to the NNPC.'
Asked how long it would take for the NNPC to offset the balances, the Finance Minister said, 'if you are worried about NNPC, that is a different matter. You are aware that there is a forensic audit that the President asked us to undertake and that is happening now and if you ask when it will be out, I will say that it is roughly going to be about eight weeks.'