EL-RUFAI TAKES ON OBASANJO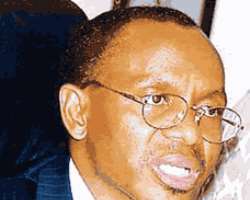 Mallam Nasir Ahmed el-Rufai
The former minister of Federal Capital Territory (FCT), Abuja, Mallam Nasir Ahmed el-Rufai on Wednesday took a swipe at his former godfather, ex-president Olusegun Obasanjo's conduct of the 2007 general elections describing it as a sham.
el-Rufai, while describing his role during the elections as that of Arsenal player, cese Fabregas, who worked the winning goal for his country (Spain) in the just concluded 2010 world cup in South Africa said, 'in 2007, virtually every member of the National Assembly from the Senate president to the Speaker, every one, down the line had to go to tribunal to defend his purported elections.
'I said purported elections because most of them were not elected at all because there were no elections. The results were just written and declared. I wish we would push this envelope to a point that Nigerians would no longer accept again what happened in 2007 elections and I think everyone knows this.
'This is why we have to look back, learn from our experiences, our mistakes and be honest enough to admit that as public leaders, we have failed to live up to our expectations, both personal and at national level. There is no need to talk about the link between politics and governance. Elections constitute the only link between politics and governance. If a person knows that he does not need to face the electorate every few years to defend his mandate, and if he knows that there is so much chance that he would not get re-elected then, the incentive for him to actually fulfil his promises is gone.'
Presenting a paper at a conference on the Imperatives of Free and Fair Elections in Nigeria in 2011 in Abuja, eL-Rufai said most of the people that claimed to have won election at that time owed their election to political godfathers, adding that 'so, long as they paid the godfathers, they don't really care what you speak.'
The conference, which was organized by the Change Nigeria Project (CNP) and Save Nigeria Group (SNG), had also the immediate past governor of Cross River State, Donald Duke, who also narrated his experiences as former state chief executive, pointing out the major problem in the conduct of elections in the country was the entire system.
According to Duke, putting Professor Attahiru Jega as Independent National Electoral Commission chairman was not enough, unless the government of the day also expressed willingness and sincerity by putting inplace credible measures and machinery to allow the process work.