FG Cuts Down Airport Contract By N250M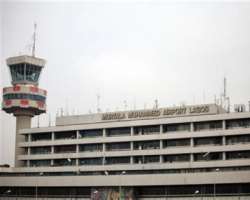 ABUJA, July 14, (THEWILL) - The Federal Government today approved a cut down of the contract for the extension and resurfacing of the Murtala Mohammed International airport in Lagos from N3.56billion to N3.32billion naira, a difference of N249.37 million naira.
Addressing newsmen at the end of the meeting of the Federal Executive Council (FEC), Information and Communication Minister, Professor Dora Akunyili, said, "with the modification, the contract sum was reviewed downwards from the initial sum of N3.56 billion to N3.32 billion, thereby saving government N249.37 million."
Minister of Aviation, Mrs. Fidelia Njeze who joined Akunyili at the briefing, added that the modification of the scope of works became necessary in order to accommodate the resurfacing of the 2nd central parallel taxiway and associated links which have failed at several portions and very vital to the entire project.
According to her these had been omitted in the initial scope of works as she added that the project had been provided for under the federal government special intervention with a completion period of 6 months.
FEC also approved the award of contract for the execution of Zobe water supply
project Phase II in the sum of N9.96billion, with a completion period of 18 months.
Similarly, the contract for the consultancy services for the Zobe project worth about N253.26 million naira was awarded and is expected to be concluded with 18 months.
On his part, the minister of Tourism, Culture and National Orientation Abubakar Sadiq Mohammed also briefed the council on the need to approve the new charter for African cultural renaissance adopted by the heads of state and government of the AU in Khartoum, Sudan in 2006 to replace the one adopted in January 1976 by the defunct OAU.