KANO AGOG TO WELCOME STAR ACTRESS TURNED EVANGELIST: LIZ BENSON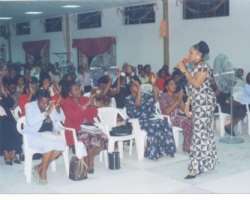 It is amazing how celebrities are gradually yielding their hearts to the calling of God.
Kano was agog once again when it hosted the wonderful star actress, female ambassador of Arts in Africa and now evangelist, Liz Benson.
The church presided by Bishop G.I. Elomobor situated in Zungeru Road, Nomansland Kano, invited her for a four-day break through seminar on the
theme: Greater Grace. It runs from Thursday 10th - Sun 13th May, 2007.
I never knew Lady Liz Benson was such a wonderful singer as well.
At exactly 6.40pm sultry screen goddess Liz Benson walked into the church auditorium with Bishop G.I. Elomobor, his pretty wife Pastor(Mrs) Elomobor and other guests from Lagos.
She was looking really sweet in a beautiful cream and brown-coloured long skirt and blouse made of African fabric, her hair pulled up with a black band, she also had black suede shoes to match. I must say Liz Benson is an ageless beauty to behold anyday, anytime.
At exactly 7.30pm when she was introduced by the presiding Bishop, there was a thunderous ovation. The crowd went wild with joy, because they thought it wasn't true that she would come.
When she took the microphone, she started with a soul-stirring, spirit-filled solemn song "Blessed be the name of the Lord, He is worthy to be praised and adored.........". For five minutes, the audience went so spiritual, and couldn't help but join her, as she led them through a medley of gospel songs. Take it from me, she's got a beautiful voice.
After the medley of worship, she preached on the topic Loyalty Virtue In Grace.
All in all, it was a wonderful time with actress evangelist Liz Benson. It will be something Kano people will remember for a very long time to come.
I spoke with her after the program, and she gave me insight to what she's been doing all the while she was away from the screen, her life as a minister of God and her vision to take the gospel to a greater height.
I see her as the next BIMBO ODUKOYA of our time.
Please give it up to our ageless beauty, actress, singer, mother of three, female arts ambassador and now evangelist Liz Benson.
EMMANUEL GABARI
Reporting from Kano
Nigeria