Soludo Will Continue To Preach Ecumenism. (Video of Prof. Soludo at the Anglican Synod)
Not Even The Gate Of Hell Can Statnd A United Church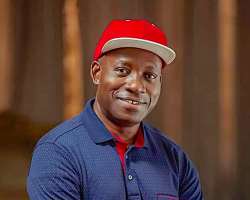 Prof. Charles Chukwuma Soludo (APGA Governorship Candidate, Anambra Election, November 2021)
Soludo's deep belief in ecumenism is in line with the new teachings of the church irrespective of denominational peculiarities. Thus, no ecumenical christian is bigoted.
Since the onset of the 2021 electioneering campaigns, Soludo has widely consulted Ndi Anambra across religious and Sociopolitical divides. In all his Church visitations and meetings with the Clergy/religious associations, he makes good governance the focus of discussion.
As he once asked a group of Clergymen, "is there a Pentecostal, Anglican or Catholic method of road construction... do we have a Methodist, Presbyterian or Sabbatharian way of teaching Mathematics?" To these questions the answer is a resounding NO!
The effort of mischief makers -- who had earlier ascribed more despicable albeit unfounded religious appellations to Soludo, including alleging that he is a member of the Eckanker movement -- would continue to come to naught, because Soludo has elevated the discussion some notch higher than pedestrian considerations.
The Anambra Electorate are value oriented, the average Anambra voter is less interested in religious bigotry. Those whose only selling point is to accentuate divisive factors over and above competence would need to go back to the drawing board. If anything, the Church in Anambra is more than ever United in their desire for a Liveable and Prosperous State. Fortunately, this is the focus of the Soludo project that fifth columnists cannot derail.
We therefore call on our teeming supporters to keep the focus and resist the Devil, who is the "accuser of the brethren". We must stand together to resist the Devil so that he can flee to the glory of God Almighty.
Mazi Ejimofor Opara
For: Soludo Media Office