2011 ELECTIONS: SAVE NIGERIA FROM RIGGING, BUHARI URGES CHRISTIANS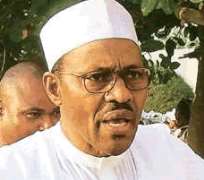 Buhari
Former Head of State, and presidential hopeful, General Muhammadu Buhari, has charged Christians in the country to ensure that the 2011 elections were free and fair. The Congress for Progressive Change (CPC), chieftain said the call on Christians became necessary in view of the transparent election they conducted recently to elect their leaders under the umbrella of Christians Association of Nigeria (CAN) as well as the role Christians leaders played in exposing the sham associated with 2003 and 2007 elections.
Government and institutions responsible for the conduct of 2011 general elections, according to the retired army general, should, therefore, borrow a leaf from Christian leaders in the country.
In a letter of congratulations to the newly elected CAN President, Bishop Ayo Oritsejafor, a copy of which was made available to Daily Sun, Buhari said: 'I write to congratulate you on your election as president of the Christians Association of Nigeria (CAN).
'The significance of the transparency of your election is perhaps an example to the government and all other institutions responsible for the conduct of 2011 general elections.
'It is worthy of note that the church, all over the world, are going beyond evangelism by devoting more time to fighting for social justice and democracy.
'In Nigeria, we expect no less from you, especially the demand for free and fair election.
'Nigerians, of all faiths, recall with gratitude the great contributions made by the Catholic secretariat in exposing the sham elections of 2003 and 2007.
'I hope you will use your good office to insist that the authorities concerned conduct credible election as well as educating your followership to elect credible leaders at all levels and to ensure that their votes count.
'I hope that in your new position, your wealth of experience will be used to promote peace and understanding not only between the churches but more importantly between Christians and Muslims in the country.'