WE 'LL NOT COMPROMISE QUALITY SERVICE WHILE EXPANDING, ETISALAT CEO, EVANS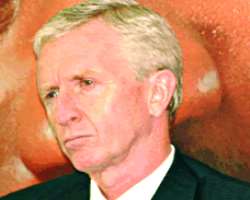 Evans
The Chief Executive Officer (CEO), Etisalat Nigeria, Steve Evans, has said at the just-concluded West and Central Africa Com Conference in Dakar, Senegal that the company remains committed to connecting the unconnected in Nigeria. It has now attained the four million active subscriber mark.
The West and Central Africa Com Conference is the gathering of operators (fixed, mobile, wireless), ISPs, regulators, investors and vendors from the region to debate the future of telecommunications.
Evans, espoused that since its entry into the Nigerian market 20 months ago; Etisalat has become an intrinsic part of the social and economic lives, acting as a catalyst for change and human development. It has continuously demonstrated leadership in significant areas not limited to the growth and development of the telecoms industry in Nigeria, but also in education under its Corporate social Responsibity (CSR) platform.
Speaking on the topic 'Enhancing competition to extend connectivity to as many people as possible', the CEO said: 'Our presence in the Nigerian market is gradually being registered in the minds of our subscribers as they see that the expansion of our network is on the fast drive. They have accepted us because they realize that Etisalat is here for the long haul and will not disappear after a short while'.
He stressed that beyond expanding the network, maintaining high quality of service remains a key performance indicator that keeps the business constantly on its toes. 'We are building a brand new network that will manage drop calls, congestion, and still offer best quality service. We will not compromise quality of service on the platform of expansion.'
Assuring subscribers and potential subscribers that plans were under way to boost broadband penetration, he said: 'we plan to buy capacity from Main One, a sub-sea cable operator, and we are looking at buying more capacity from another sub-sea cable operator to boost our operations. We have decided to have capacity from two operators to avoid the issue of redundancy in network operations, should there be problems with one of the cables'.
Etisalat is at the forefront of a win-win ideology of putting customers at the center of all it does as a prerequisite for sustaining its stellar business performance.