CISCO INTRODUCES COLLABORATION, BORDERLESS NETWORK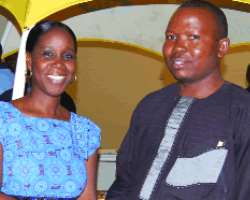 L-R: Mr. Kabiru Kazaure, Customer Relationship Manager - Online, MTN, Mrs. Odunayo Sanya, Senior Manager, Planning and Customer Management, Mr.  Christian Udube, MTN customer, and Mr. Adedokun Adeyinka, Customer Relationship Manager, MTN, at the Customer Forum organized by MTN in Kaduna, recently.
Cisco has reaffirmed that technology could get better as it introduced 'collaboration and borderless network' to the public. According to Marketing Manager, Mrs. Owen Inyang, collaboration and borderless network helps communication within and outside the country.
'The word borderless simply refers to seamless communication either on voice or data irrespective of where either the person who calls or receives the information are located.' Business Development Manager, Borderless Network, Mr. Ahmed Etman, added that mobility is happening every time. He further explained that broadband revolution would boost the borderless network and that the country is overripe for this kind of technology and that 60 per cent of data in Cisco is video.
According to him, part of such borderless network is the telepresence that is powered by Cisco, researched by Resourcery and implemented by MTN.
'This is the power of technology and it only shows that people within and outside could communicate without any hitch'.
Cisco Collaboration architectural Manager, Africa and Levant, Bola Adegbonmire, noted during the demonstration on tele-presence that technology has changed virtually the way people live and work. He also disclosed that borderless network enables several applications via communication, while stressing that technology has revolutionised email, online chat and Telepresence that has a greater level of interactivity.
He added that as part of his company's security measures to guard against hackers gleaning information through discussions, Cisco has ensured that Telepresence service is encrypted. He however, acknowledged that there could be breeches but it does not have major effect on the entire package.
Adegbonmire also explained that contrary to customers' belief that Cisco products are expensive, the company's products are the cheapest in terms of quality and effectivenesss, while stressing that various platforms are available for each customer depending on the service needed.