Remarks By Mr. Oseloka H. Obaze, Md/ceo Selonnes Consult, At The Dora Akunyili Memorial Lecture Organized By University Of Nigeria Nsukka Alumni Association (unnaa), At Sharon House, Onitsha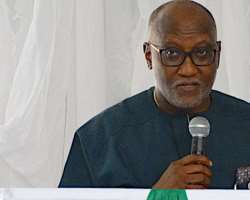 Drug Prescription Control As A Facet of Human Rights: Physicians And Pharmacists Need to Teach Nigerians by Example . Tuesday 28 September 2021
Protocols
I wish to thank the University of Nigeria Nsukka Alumni Association (UNNAA) for the invitation to be here today. It's an honour to be part of this event, more so since it honours late Prof. Dora Akunyili, a patriot and daughter of Anambra State. We remember her fondly.
Before continuing, I also want to post a caveat. I am not a physician. I'm also not a pharmacist. Rather, I'm public policy student and good governance advocate. Beyond that, I represent simply, the average Nigerian, who occasionally depends on both cadres of health professionals for their wellbeing and healthcare needs. Like many, I also worry about the dismal state of our healthcare delivery system.
As a nation, we face several challenges in the context the theme of today's lecture that we need to address urgently. We must do so in the context of Sustainable Development Goal 3 (SDG-3); which requires us to "Ensure healthy lives and promote well- being for all at all ages." Of the many challenges we face, I find one most bothersome. It is the existing loopholes in drug prescription control. This is about accountability and cracks
within the realm of public health policies and governance, that impacts on human rights of individuals, albeit unwittingly.
I will illustrate with a personal experience. Not long ago, I had cause to visit a Dentist in Enugu. He is highly skilled and ran a well appointed private clinic. As a Consultant, he is professionally highly regarded. And I can attest that he knows his work, and is exceptional. His fees were, of course, very exceptional also. To drop N25k to N30k per visit is not cheap. But I was well attended to.
The problem was that he dispensed three medications to me from his office. I could only identify one as an antibiotic. I was clueless about the other two, packaged in sachets, without any identification beyond the daily dosage.
On returning home I called the dentist. I identified myself, and told him I was not about to take the pills he prescribed, unless he told me what they were. Before he reacted, I said: "Doc, I'm aware you know that I am an informed patient. My wife, whom you met, is also a doctor. I am not about to take any medication, without knowing if it's something I'm allergic to, or if I run the risk of contraindication as I also take other medications." That said; I had his attention.
The dentist confirmed the other two pills to be Paracetamol and Vitamin C. These were simple enough. So why did he not write them out. This is common practice here. The reasons could be
several: cost and possibly, patient ignorance or miseducation.
The scenario I narrated would be comical, if it did not also pose the possible risk of turning tragic for me or any unsuspecting patient. It is a situation faced daily by millions of Nigerians, both literate and illiterate. It's one area our physicians and pharmacists are failing us. It also reflects a conundrum in our healthcare policy formulation, implementation and enforcement.
As a public policy and good governance advocate, I'm not a flame thrower. I also try not to be meddlesome. But we do have grave challenges in this regard. Dispensing medication to patients, without checking what they are allergic to, or which other medications they taking, borders on medical malpractice. It's a recipe for disaster.
This is especially true for anti-hypertensive medications, cardiac medications, diabetes medications, and blood thinners as they are referred to.
So, it is only fitting and compelling that we begin to talk about such sectoral and institutional challenges and begin to push back. Such practices also border on the nefarious, and must be redressed, since its consequences could be as bad as drug counterfeiting, and trafficking, and along with these, should be considered as a crime against our humanity.
Every drug has a name – both generic and brand. Therefore, dispensing "nameless" drugs to Nigerians, poses the risk of overdose, and even deadly anaphylactic reactions. Some drug overdoses are as deadly as ingesting poison. And I'm sure; such medically-related accidents happen every day and are either not unreported or under-reported.
In 2018, I was asked to speak at UNIZIK during the UNESCO World Philosophy day. My audience was comprised of academics, professionals and students. Given the liberty, I titled my lecture, "Teach the Children Well, Don't Teach Them Nonsense."
Today, I reiterate my call on our medical professionals – physicians and pharmacists - to teach the Nigerian public well and educate them, by being open and transparent with drug prescriptions. Such a simple gesture, when embedded in routine practice, soon enough becomes habitual and an essential attribute of an orderly and disciplined society. It will add value to building a healthy society and fostering good governance
I see no redeeming value in doctors keeping their patients in the dark. The only motive I can discern – and I stand corrected - for doctors not writing out names of drugs they prescribe is that most are focused on being transactional and on profit making. They want the patient to keep coming back to them. They also do not want the patient to know if they are being ripped off. Thus they deny the patients the right to search for cheaper drugs, and even affordable generic brands. The pharmacists abet the physicians in this regard.
This opaque practice must stop. It must stop via regulatory policies - both self-regulating and governmental regulating.
Globally, there is now added emphasis on safe multidisciplinary drug administration also known as medicines management. Nationally, and from a public policy prism, our performance in this area is dismal. I call on our medical professionals to adopt and institute global best practices relative to medicines management. In all, ten critical patient rights have been identified. They include: right patient, right reason, right drug, right route, right time, right dose, right form, right action, right documentation, and right response.
This approach could be embedded in legislation. Under the code of conduct of medical professionals it could also be adopted as advisory, and a non-binding declaration.
In our national conversations, it's commonplace to hear our compatriots grumble. As they complain, they wonder why nothing works in Nigeria as it ought to; or as it does in other nations. The answers are inherent in the exhibition of personal commitment and political will by the leaders and the led, or lack thereof.
Some years back the great Lee Kuan Yew of Singapore was asked to comment on what he considered as salient national attributes. His exact words: "A nation is great not by its size alone. It is the will, the cohesion, the stamina, the discipline of
its people and the quality of its leaders which ensure it an honourable place in history". We too can join in that ennobling refrain.
On the matter at hand, what then do we do to overcome the present challenges. In furtherance of the legacy left by Dora Akunyili, NAFDAC, NMA and Pharmacists Council of Nigeria (PCN) must work in concert, to identify, classify and promulgate those drugs and medicaments that are considered over the counter (OCT), and those that require strict control and can only be dispensed via professional prescription. More importantly, our medical professionals in keeping with their professional oaths should seek to guarantee their patients access to information, fair treatment, and autonomy over medical decisions.
Furthermore, I have seen physicians prescribe drugs, on pieces of paper, including bereavement souvenir notepads. This is deplorable. It is unacceptable! Every physician must have his or her own prescription pad. That is why physicians are licensed. There could also be institutional prescription pads.
Indeed, in this age of technology, there are Apps that are used for electronic prescriptions. Such Apps affirm authenticity, just as we can now verify the authenticity of drugs by scratching and texting the control code to a manufacturer's designated number. The prescribing physicians will thus be ensured that their prescriptions are tamper proof and fraud proof.
If as a nation we can produce plastic bottles for table water and various plastic canisters for household use, I believe that we can also standardize our capsules or canisters for dispensing drugs. Drugs ought not to be dispensed in all manners of disposable envelopes and sachets. There must be uniformity in order to achieve integrity and security in the drug industry. Such drug canisters should be child proof. We must, accordingly begin to make consequential decisions.
These suggestions presuppose that the willingness to collaborate exists. I see a two-track approach that will elicit the desired synergy.
First, is that regulatory policies are needed and such policies must be domesticated and standardized nationwide. That responsibility belongs to government: both Executive and Legislative. This is where NAFDAC comes in.
Second, the professional bodies and related agencies need to work in concert to address these problems. Those far more competent than me know where to start. But the mission objective, is one to which we should all be committed, not knowing if the next victim, will be someone related to us. Even if that were not the case, one life lost to such loopholes, will be one life too many.
Conclusion:
I will end my remarks by sharing one of my favourite public service and public policy exhortations by Susan Rice: "Each of us, not just the leaders, has agency and responsibility. Each of
us can combine to catalyzing our national healing. We have the tools, if only we have the will."
So, as we celebrate Prof. Dora Akunyili, let us remember that against many odds, she blazed the trail in sanitizing our drug industry, especially the manufacturing and sale components. She built the pedestal on which those charged with sustaining her mission must now stand.
Let us jointly affirm our commitment to fulfilling our roles as good citizens by obeying extant federal, state and local laws, and when we fail, stand ready face sanctions and pay the applicable penalties.
I thank you for your kind attention.