Funke (Jenifa) Akindele: How to lose your name to a character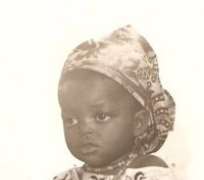 On the morning of this interview, I had arrived promptly at the hotel in Ebute Metta-Lagos. Having put a call through to her room, the receptionist showed me to the bar. She requested I wait for her there. It turned out to be a long wait. The irritation that was on the rise drained out when she arrived. The genuineness of her explanation did it. She had worked late into the night, shooting a new commercial. For many, Oluwafunke Akindele hit our collective consciousness with the release of her comedy, Jenifa. Only a few people linked her to the teenage television series, 'I Need to Know'. Definitely, Jenifa rediscovered Funke afresh and connected her with her old friends; as well as winning new lovers. NSEOBONG OKON-EKONG reports

This is probably not the best time to write a newspaper article on Jenifa. There is a good chance everybody already knows her. It is not possible to be alive, well and informed and not to have had any contact at all with her. If nothing else, her reputation went ahead of her; in many instances. Sure you heard so much prattle about her, every where you went until you could take it no more. Much of the talk centred on her harebrained disposition. She became famous for doing some of the most ridiculous things; like dressing up for classes in her pajamas.
Not fazed by what anyone had to say, she was prepared to display more stupid acts in her determination to show she had arrived and belonged in the class of 'bigz girls'. In between fits of laughter, her newfound friends spent time teaching her to speak and carry herself like a sophisticated lady.
The hilarity of the play was the tonic needed to keep audiences glued to their seats until the end. However, the vital lessons to be learnt from the grind of a false live were not lost. The 'wanna be' syndrome driving many young persons into doing despicable things was so vividly portrayed by Jenifa. It was borne out of what happens on campuses of many Nigerian institutions of higher learning. The campuses have become a hiding place for young people to prostitute. Jenifa carried a rigging warning about HIV and AIDS and other sexually transmitted diseases; and the risks that they face doing what they do. The trend is known as 'Aristo' and it explains the desire of impressionable girls to dress and drive fancy cars like other 'bigz girls.'
Jenifa may have had her season of fame and has now taken a back seat, but Oluwafunke Akindele continues to present an intrigue to observers. Jenifa was Funke's creation. The film, Jenfa, which generated a whole new interest in her personality hit the screens in her 10th year of acting; having started in 1998. Right from my primary school at Great Children School Gbagada, through secondary at the Lagos State Model College, and even during her studies for an ND in Mass Communication from Ogun state Polytechnic and an LLB in Law from the University of Lagos, she loved acting.
The good and obedient person she is, Funke was willing to please her parents while keeping her dream career in focus. Her Law degree is essentially for her father. Every now and then the knowledge come in handy in writing a good script. "I love Law. It is in my stories; in my movies, in my old movies.  Law is different. Acting is my first love. Entertainment is my first love. I will still go back to law. I'm not going to throw it under my carpet. I don't want to talk about it right now but when I'm ready I will." At the moment she is riding on the wave of the success of her films. Even though she has graduated as a lawyer, she is not in a hurry to attend the law school and be called to the bar. Her love for entertainment is all that matters now. "Right now I'm focusing on my career, later on I might take Law seriously."
On the 24th of next month, August, Funke will be 34 years. She has a lot of admiration for her parents; both of whom she considers as strict and no-nonsense fellows. "I have gone through a lot. I've seen a lot. I've seen things happen around me. I listen to people a lot and anything I go through in life I see it as a lesson and an experience. I've heard a lot from people. I love listening to people and making them happy."
She gives the credit for her success to the liberalism and supportive role of her parents. They made it clear that she could only have their support for anything in life she wanted to do, if she would get an education first. Both of them are very happy now that she is doing well.
With the success of Jenifa came so many offers with mouth watering monetary package. Of late she has been campaigning for the Lagos state government, encouraging residents of Lagos to maintain a clean environment and to pay their taxes. She is also an Ambassador for GLO.
Funke still has a lot up her sleeves. That is why she can't be distracted on the issue of a husband. Sometimes her fans express their admiration for her in extreme ways. One of the most outrageous things she has had to deal with was from a follower who kept calling to tell her that God has told him that Funke is his ordained wife. Although she would not say what it was she did, but admitted that she had to take steps to protect herself from possible danger. "I had to do something. It was tending towards madness. This is how people get shot. I had to act before it got out of hand."
For Funke, marriage is the least of her problems. She addressed the matter with one sentence. "When the right person comes along I will get married."
It was not until Jenifa came out that many people connected Funke with the teenage who glowed so brilliantly in 'I Need to Know'-a television series that dramatised teenage issues. Anyone who did not see 'I Need to Know' or had forgotten what it looked like could be forgiven, for it took a long while before Funke gained relevance on the screen again. She did not get a role after 'I Need to Know'. "When I was doing 'I Need To Know' I had passed teenage years. I'm very natural. 'I Need To Know' opened a lot of doors for me. It was about sex education, awareness on HIV/AIDS and I'm happy I was part of it maybe that was what is making me write scripts or shoot movies that has to do with morals or passing good messages to the youths out there."
The two influences that have weighed positively on Funke's career are her family and 'I Need to Know.' Her father was a principal in a secondary, while her mother talked to her all the time. She did the same with her older sister and the two younger ones.
Of the three girls in 'I Need to Know' who took the lead characters, Funke is only one who has kept the acting touch burning. She is in touch with them-Amaka and Hauwa-and both are very proud of her achievements.
Many would have expected her return to be in the English-speaking film, she gives God the glory that the film that shot her popularity to the top of the ladder was done in Yoruba. She is not perturbed at all that she is better appreciated by the Yoruba speaking public. "I like where I am presently, I'm pleased with God's plan," she enthused.
Jenifa could by no means be put down as an ethnic submission, for it conveyed nationalistic and global themes. Thank God for giving her the inspiration for Jenifa, Funke is happy to report that through her fan mail and other sources of feedback, she is able to judge that, "everybody watched it, Igbo, Hausa." If by being Yoruba, it was taken that interpreting the Jenifa role was going to be a walk over; it did not quite happen that way. The strain of Yoruba she opted to have Jenifa speak in the film was going to require a great effort. It was very different from what she was used to as a Lagosian of Ikorodu descent. Acting, however, is always about striving to be somebody else. She was ready for the challenge that she knows every script is. The little comfort was that she wrote the script and produced the movie. Her heart was in it already. She did not set out to play the Jenifa role, originally. Try as she did, she could not find anyone who interpreted the role satisfactorily among the scores who came for auditioning.
She has completely lost her name (in many respects). Because she threw herself into the role and interpreted it so well, Jenifa has not only her middle name, it has sufficiently subsumed her given names. Every where she goes, people call her 'Jenifa! Jenifa!!' She has not given a thought to the possibility of adopting the name officially. "Incidentally, when some members of my family who should know better want to tease me, they call me, 'Jenifa'. That is funny. I have played many characters in the past and will yet play more in the future, how many can I adopt?" I may yet do something that will surpass Jenifa by far."
The film was going to be a statement for the youths, which she feels she represents; so she could not afford to toy with it. Having been through a lot in life, she was going to draw on her experience. "I have seen a couple of people who lived like that when I was in the University of Lagos. They want to project a big life style. They don't want to be themselves. I just want them to be happy in being themselves and not try to be someone else."
Jenifa could have been a straight talk about HIV/AIDS but Funke knew it might have been a lost message because it is already over flogged. "The youths don't want to listen to HIV/AIDS is real, you need to know your status, blah, blah, blah, you have to use a condom; they are tired of hearing that. So I thought, what other ways can I pass the message across to them? I decided to do a comedy and I thought to myself, they will laugh when they see the Jenifa character but they will also learn a good lesson there, because some parents just leave their children and their wards to go into the university without looking back, without watching their backs.
"We called for an audition but I couldn't get a good actress for Jenifa. I didn't want to play the role I wanted to concentrate on producing but I saw that oh, didn't get anyone to play it as good as I would have, I had to get a good production manager who also doubled as a line producer for Jenifa and I had to play the role."
Write, produce and act, she can, but she will never deceive herself that she has proficiency as a director. "I'm not professionally good. I know the lay man style of directing. If I want to go into directing professionally I have to learn it, I have to go to school for it."
Normally, Funke is as simple as they come. There are no airs around her. So she was surprised and very upset when a section of the media hit her with a few unpalatable pieces. Journalists and paparazzis sometimes get on my nerves, but I've learnt to take things easy. At first I was always crying any time they write stories about me. I was like, why? Why? Anything I do they want to know but thank God I have older friends in the media who advised me. My mum also told me that people want to know what anybody in the limelight is doing. They want to know when you fail and when you succeed." I have my own group but I try my best to be myself.
The future holds a lot of promise for Funke. The crew and cast of Jenifa have a special place in her heart. "I love them so much. They are wonderful people. I've worked with them on so many productions including, 'Ojo Ketala', my first movie as a producer. Much of what she has done have been made possible through the collaboration of Alhaji Hakeem Balogun, owner of Olasco Films, who sits on Funke's projects as Executive Producer.
She said her fans have not seen the best from her. The possibility of surpassing her performance in Jenifa lies in the horizon. "I'm doing a movie, Tunde Kelani's, 'Maami'. It's a different character entirely. You will see another side of me."
And because she wants to extend the life of the characters in Jenifa and take the story to its logical conclusion, the sequel is coming with 'The Return of Jenifa.' "We are going deeper into social vices committed by these young ladies and guys. We will answer the question on what happened to Jenifa, Shakira, Gbogbo bigz girls; there are many characters that people want to know what happened to. We are going deeper into HIV/AIDS. There are people out there who don't want to know their status, we need to reach out to them. 'The Return of Jenifa' will show case all these and more.
The accomplishment of Jenifa has spurn retinue of replicas. "A lot of people have been doing that. I've seen a couple of movies that are like that (Jenifa) and the only thing I can say is 'thank God I'm a pace setter' and I pray to God to give me more wisdom to write and produce greater movies."