APGA Social Media Like The Party Is Strong And Undeterred - Ozumba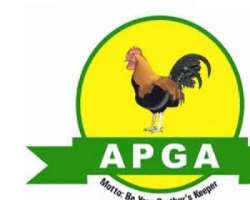 The Deputy Chief Press Secretary to the Governor of Anambra State Mr Emeka Ozumba has reacted to the fabricated and gabbled story by one faceless Joseph Nwaobualor.
Nwaobualor had alleged inflation of a non-existent budget for APGA social media.
But Ozumba who is also the Deputy Director APGA Media Campaign Directorate dismissed the allegation as a fabrication of little minds, insisting that the story about the nonexistent budget was made up just to malign and damage his squeaky-clean reputation as a PR/media practitioner of many years standing.
Continuing Ozumba said that the so-called Nwaobualor was a cognomen used by a disgruntled fellow who in his effort to sound credible decided to drag the name of the wife of the Governor of the state Her Excellency, Dr. Ebelechukwu Obiano (Osodieme) into the concocted lies. It is regrettable according to Ozumba that the name of an innocent woman who is busy with her charity works and coordination of the Anambra women for the victory of APGA in the November governorship election was being sullied.
"My first reaction was to ignore the concoction, but being conscious of Jonathan Swift's warning that, "falsehood flies, and the truth comes limping after it," it becomes imperative to disclaim the falsehood and consign it to the garbage where it belongs. I make bold to say that there is no iota of truth in the allegations. The writeup is a blatant falsehood and mere attempt to distract the young men and women in the APGA media who are doing a great job and should be ignored." Ozumba stated.
Furthermore, the Deputy Director called on all APGA faithful and all those handling all sections of the Media Campaign to ignore the tantrum, stay strong and focus on the goal because according to him Oscar Wilde, the Irish poet once decried gossip when he averred that: "There is only one thing in life worse than being being talked about, and that is not being talked about."