Nass Member Lauds Pdp And Fintiri's Appointment As Convention Committee Chairman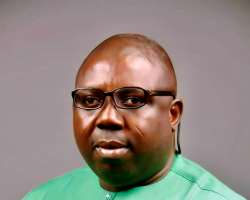 Rt. Hon. Anayo Edwin-Nwonu
The leading aspirant in the forthcoming 2023 gubernatorial election in Ebonyi State and two-term member representing Ezza North/Ishielu Federal Constituency in the National Assembly, Rt. Hon. Anayo Edwin-Nwonu, has applauded the Peoples Democratic Party, PDP, for successfully weathering the storm of dissention which reared its head in the party in recent times and coming out as a stronger and more united party inspite of the negative permutations of prophets of doom. Speaking further, Edwin-Nwonu who doubles as the Chairman of the House of Representatives Committee on Reformatory Institutions lauded the PDP over the constitution of the National Convention Planning Committee and the appointment of the Governor of Adamawa State, Mr. Ahmadu Umaru Fintiri, as its chairman. Speaking to newsmen in his Abuja office immediately after the inauguration of the convention committee which held at the National Secretariat of Peoples Democratic Party, Abuja, Edwin-Nwonu thanked the leadership of the PDP for the bold step.
According to the federal legislator, "I commend the leadership of our great party, PDP, for nipping the recent misunderstanding which threatened the unity of the party and for reconciling the party into a formidable family inspite the negative expectations of undemocratic forces who were not comfortable with the rising profile of the PDP as the only credibile and trusted option for Nigerians; and the preparedness of the party to take over and repair Nigeria. The inauguration of the 2021 PDP National Convention Planning Committee is a great milestone which will unify and transform the party into a formidable democratic force.
"I am particularly happy with the choice of Governor Ahmadu Umaru Fintiri who rose through the ranks of politics to the position of the Governor of Adamawa State Governor; and so understands the importance or relevance of internal democracy in any given political party. As I congratulate both the PDP and Governor Fintiri on their respective feats, I wish to express my confidence that given the competence and integrity of Governor Fintiri as well as the members of the PDP 2021 National Convention Planning Committee, they will organize a free and fair convention which will further strengthen the PDP to take over the country in 2023 and redeem Nigeria from the path of the precipice where it currently is".
Rt. Hon. Edwin-Nwonu called on party faithful and Nigerians at large to register or update their voter registration cards to enable them participate in the 2023 general elections, adding that "the 2023 general elections is a critical exercise in the quest for the reinvention of Nigeria into a peaceful and progressive human habitat which it was before 2015".