2011: JONATHAN SHOULDN'T BE INTIMIDATED OUT OF OFFICE – HON KUMALIA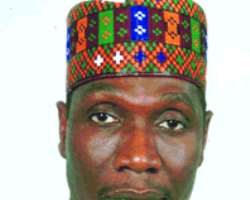 Kumalia
Hon. Umara Kumalia was the Minority Leader, House of Representatives, during the Speaker Umar Ghali Na'Abba-led House. He was in the House for eight years, before contesting the governorship of Borno in 2007. Today, he is one of the leading lights of the 'Jonathan Movement,' a group, mainly of northerners that staged the recent Bauchi rally.?
He told Daily Sun last Sunday at his Abuja residence that zoning has outlived its usefulness. Kumalia, who was the Secretary of the 1995 Constitution Conference Drafting Committee, also said zoning as envisaged in the 1995 Constitution was different from the type being canvassed today. Excerpts:
What was the motive behind your group's rally in Bauchi? The group is called the Goodluck Jonathan Movement; it is a group of like minded members of the PDP who are canvassing for an alternative position to what by some leaders in the north about the issue of zoning. We believed that zoning of the presidency was a very well intentioned policy that was introduced in 1999 which was adopted both by the PDP and the ANPP, to serve the purpose of  ceding power by the Northerners to the southern Nigeria which was a very gracious act which our leaders ought to be commended for. But today, the circumstances are somewhat similar again because if you look at the motive for zoning, it was to bring about unity, harmony, cohesion and mutual trust among all Nigerians. At a point when the Southern elements were of the opinion that the northerners are clinging on to power because of their majority number in terms of population.
What our leaders did at that time was very commendable and it shows magnanimity. Again, what zoning did not envisage then was what happened in situation where an office is zoned and the occupant of that office died or is impeached or removed as a result of infirmity of body or mind as the constitution says.
The constitution says the deputy governor or the vice president takes over— who is clearly not from the same zone as that of the governor or the president which happened in the case of Jonathan succeeding late President Yar'Adua.?
We did not envisage that and now we are in a situation where zoning has not contemplated the situation we are in today and we of the Jonathan Movement are saying that in the same spirit of zoning, to bring about stability to the polity, to be our brothers' keepers and since it is God's design that Goodluck Jonathan is President of Nigeria today, we are saying that Goodluck Jonathan should not be cajoled out of office, should not be intimidated out of office but rather he should be allowed to contest just like any other Nigerian in the north or south.
And if Jonathan wins so be it, if a northerner wins so be it. Meaning that though zoning was good and it served purpose to which it was brought about, zoning has outlived its usefulness because we are in a situation whereby today constitutionally speaking, Jonathan has the right to contest the office of the President.?Now, under what kind of arrangement will you say he should not contest or seek that right given to him by the constitution? Because any other thing that one will cite is going to be subordinate to the constitution.
If you are talking about the PDP zoning formula, which was meant for a purpose and that purpose has been achieved. No southerner will wake up today and say that the north is not magnanimous in seceding power to them. We have already done it and they have seen it. For you to say the south-south who by providence today holds the presidency should not contest, then you are calling for chaos and another round of mutual suspicion and disenchantment.
That is why we are saying Jonathan should be allowed to contest, whereas we agreed that there is zoning.  I know some people are saying that there was nothing like zoning. It is not true. There was zoning and zoning served its purpose of bringing about unity, stability and cohesion to this country. Nevertheless, today there is time for everything in life. There is time for zoning and now we have reached the stage where things should be allowed to go on under very normal circumstances so that we do not try to rock the boat and make some group of people feel disenfranchised.
You have never supported zoning and always believed that Nigerians should be given the opportunity to choose a President who can come from anywhere so long as he serves Nigeria and is capable of building Nigeria. Is it by accident that you find yourself in this group or by design?
Well, as you rightly said, I have always believed that in Nigeria, the best should be allowed to lead, but in my personal opinion, I have always made it subservient to the general opinion of the generality of the opinion leaders and moulders of opinion within the polity I respect so much.
That is the whole beauty of democracy because once there is consensus then you must subjugate your own personal opinion to bigger consensus that has been reached. Now an issue has come up, Professor Jubril Aminu has put it rightly; he said in one interview that I read, 'what do we do with Jonathan??Jonathan is today, President of Nigeria and he has the right to contest and I believe that whatever God wants for Nigeria by making him President without anybody voting for him I think that purpose should be looked at and respected.
If God wants him to be President in 2011, he will be, but if God does not want him to be President in 2011, he may even contest and lose. But don't scheme him out because the future of this country belongs to us, the future of this country belongs to my generation and the generation of those behind me and I believe we have bigger  stake in contributing to this debate. That is why we have taken a leading role, because we must lift Nigeria as a nation. The northerners, the southerners, the Christians the Muslims. We must all live together because this is our nation therefore; we must actively participate in the debate that is most topical as far as succession issue is?concerned today. ?And we must do it in such a way that we preserve the corporate image of Nigeria.
We must preserve the mutual trust that exists between all of us and we must do it in such a way that at the end of it all we are coming out stronger as a people, we are coming out stronger as a nation because we are divided along ethnic lines, along geo-political line. Some contestants in the north who have declared their interest are capable politically of defeating the incumbent President. The fact remains that let everybody subject his own desire to the process without shortchanging somebody, without disallowing somebody from contesting; more so a sitting President who constitution has been given the mandate to contest.
That is my opinion. ?
Are you saying that other northerners should contest but Jonathan should not be stopped from contesting? Is that your opinion?
That is my own opinion, and that is the view of the group I belong. Jonathan should be allowed to contest because when you propagate zoning you are in other words placing a moral burden on him not to contest.
I believe that is not fair, I believe, as a nation it got to a stage as a nation, what we have to do is to bring about zoning. If we have come to a stage that we don't need zoning anymore, so be it, that means we have grown another step further as a nation in our political development and that is what is happening now.
Talking about the rally, the venue speaks volumes.
It was held in a state where we have the former President's in-law, as governor, a state which originally was won by the ANPP but later became that of PDP, a state where people of the region are also crying to be President, was it by accident that the rally took place within the zone where the people are also saying that probably apart from Tafawa Balewa they have not gotten close to that number one seat?
Some of the factors that you raised were not even considered in trying to host such a rally in Bauchi. Bauchi have played a very significant role in the north-east.
If you ask me as person, I will say the rally should be held in Borno because Borno has a longer history in terms of leadership of the north-east. Borno was the headquarters of the former north-eastern region. But overtime, because of certain happenings within the polity, Bauchi has been given a lot of prominence in terms of either hosting events or hosting headquarters of organizations even the PDP zonal headquarter is hosted in Bauchi, I don't know the reason for that, may be because we don't have a PDP governor in Borno. For me, the north-east deserves to produce a President, there is no doubt about that and our brothers in the north-west have been producing the President and we have always worked together with them, we have always supported them.
You know sooner than later it would be nice if they realize that their brothers in the north-east also need to be supported to produce the President. Nevertheless, it does not have to happen in the way that zoning is being clamoured for. Just like the unwritten rule that takes place within every political setting where it is zoned to different local government by concessions. At times, it is not pushed down the throat of people to accept. In that way, the north-east also deserve to produce a President, but then with time we will; there is no doubt about it. ?But more importantly the reason for chosing Bauchi was just a coincidence; it is not really because of any of the factors you mentioned of ANPP winning the State or because the governor is former President Yar'Adua's in-law and stuff like that.
But the north appears divided on this matter, what does it portends for the future of the region as a group?
The north has always been a cohesive unit. The north has had a longer history of total engagement than any other part of Nigeria. We have been in politics because even the traditional leadership that we have in the north, the evolution has always been through some political activities here and there. They may not necessarily be elected but the decision making process is similar to what happened in a typical political setting. So, at times in certain districts even, our traditional rulers are elected by group of king makers. At times they cover the entire length and breadth of a state or even beyond. So we have been used to that and I believe this a very healthy debate.