Police Foils Emir Of Kano's Assassination Attempt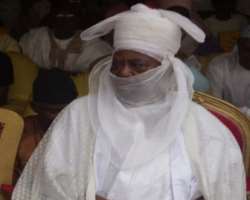 PHOTO: EMIR OF KANO, ALHAJI ADO BAYERO.

San Francisco, July 11, (THEWILL) – An attempt was made over the weekend to assassinate the Emir of Kano, Alhaji Ado Bayero, THEWILL can report.
THEWILL learnt that the lone gunman, Usman Abubakar, 19, had last Friday stormed the Muslim Juma'at prayer session in Kano hoping to kill the Emir Bayero but was apprehended by policemen before he could execute the murder.
The police has also arrested another person, a marabout by the name Abubakar Batakaye, who allegedly directed Usman to kill the Emir. They are both being detained at the Kano State Police Command.
In his confession to the attempted murder charge, Usman said he arrived at the prayer ground at 9. a.m on Friday under the instruction of the 65 year-old marabout, who also allegedly gave him a charm for courage to commit the crime.
The Kano State Police Command over the weekend said a Deputy Commissioner of Police, Mr. lawal Tanko has been directed to lead investigations into the attempted murder.