WORLD CUP FINAL: YOUR REACTION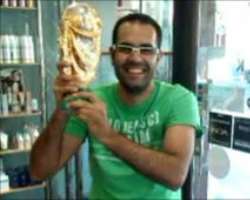 Football fans around the world have been watching the World Cup final.
Here, supporters of both teams share their experiences of the game.
XAVIER MOLINA, SPAIN FAN, MATARO, SPAIN
I am crying, I am crying, I have no voice, I have no words to describe how I feel, incredible, nervous, amazing. What an experience!
I thought that throughout the game Netherlands weren't playing football, they were only kicking the Spanish players. Maybe they thought we were the better team. We are the better team and the best one!
I am at home right now. I was watching the game with my girlfriend and communicating with friends via Twitter and Skype.
I am going to go out in the streets now. Everyone will go out to celebrate. You can hear the car horns, there are already lots of people out in the streets.
I've got a replica cup in my hands. I took it from my girlfriend's hairdresser, who got it from someone from Brazil. I was so confident we'd win, I took a photo holding it earlier in the day.
VICTORIANO IZQUIERDO, SPAIN FAN, VIENNA, AUSTRIA
It's in incredible. Today is a day for Spain to celebrate.

I'm amongst the Spanish community in Vienna, Austria where I am studying for the summer.
I watched the match with friends in a Spanish bar where there were about 200 Spain supporters. We arrived in the early evening and we've been here for about six hours!
I am so happy that Spain have won the World Cup for the first time. When we beat Germany in the semi-finals, I thought we would win. The Dutch were quite aggressive and so I thought it was right that Spain won.
We are all making our way to the central part of the city and we're celebrating in the middle of the streets. Sunday night is usually quiet but there are lots of people here making lots of noise!
We will be celebrating for a long time into the early hours.
NATHALIE RAMIREZ, SPAIN FAN, NEW YORK, USA

I watched the game with friends in the lower east side of New York in a retail store. It was a great atmosphere as there was free food and drink while we watched the match.
I supported USA when they were in the tournament, but when they got knocked out, I started to support Spain because I have family there.
I was excited in the run up to the game, but it became a shoving match and the game was very long.
But when Spain scored, I thought that it was well deserved.
Back in Spain, my family are excited by the result, even those that don't particularly follow sports.
FELIPE FLOREZ, HOLLAND FAN, JOHANNESBURG, SOUTH AFRICA

The first half was boring and the second half not very exciting. When Spain scored it was just rubbish. They really need to start to use cameras.
I feel wronged, I would have preferred it to have gone to penalties. It is so unfair.
I only managed to get a ticket to the final yesterday after trying for weeks. I was so excited about going. I definitely thought that Holland would win.
I am devastated.
MARTIJN BOERSMA, HOLLAND FAN, AMSTERDAM, THE NETHERLANDS

I am laughing, but that's only because otherwise I'd be crying. It's funny how the mood went bad suddenly. Everyone was really confident at the beginning and throughout the game and suddenly it all went.
The atmosphere was so ecstatic. We were so confident that this time we'd win.
After 90 minutes of no goals we were all anticipating the penalties and the Spanish goal came as a complete surprise. When we heard the whistle, everyone felt it – it was so unexpected.
You should see Amsterdam at the moment. Some people are easily getting over it, but the majority are quite devastated. This is our third trauma, when we've reached the finals but not got the trophy. It was 1974, 1978 and now 2010. Holland is the only team to have achieved that.
I wasn't happy with the performance of the team. Everyone expected them to be more dominant and to have more possession of the ball, but they only had two good opportunities to score.
The party will continue, there's music, but people will go home early. I just don't think we'll have another chance to win – not in my lifetime.
ARJAN TOPAN, HOLLAND FAN, RIGA, LATVIA

There were about 700 of us in Riga Square watching the game on the big screens. It was a really close match. Spain scored, they won so they probably deserved it.
Most of the people watching supported The Netherlands and there were a lot of orange shirts around. The Spanish though were the loudest when the final whistle blew. But we all congratulated each other after the match which was really nice. Some of the Spanish supporters even chanted 'Holland' after the match as a sign that they thought we had played well.
I didn't expect Spain to win. I really thought we would get through and hold the trophy.
It's a brilliant atmosphere here even though I don't have much to celebrate.
MICHEL PILGER, HOLLAND FAN, LELYSTAD, THE NETHERLANDS

Holland fans getting ready to watch the game in Lelystad.
I confess I abandoned ship after 105 minutes so I missed the second half of extra time. I must say though the referee seemed fair and just.
The play was in our half all of the time. Spain were relentless. We just didn't play well. At times we were brilliant but we just didn't play well tonight.
We were all watching on big screens in the city centre here in Lelystad. It started off so hopeful but after 90 minutes, the atmosphere in the city centre changed. I am not in a happy state right now.