Jim Iyke back with a bang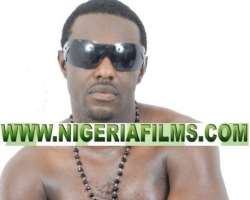 Features Rita Dominic, Raffy and Mercy Johnson in two new movies
After being out of public spotlight for close to four months, Nollywood hunk, Jim Iyke is back and this time around it is not with a lady alleging something or his publicist, Bigsam Media defending him. The ace actor is back with two movies in hand which he produced and partly directed.
Jim just signed up with a new management to further help him consolidate his rating as the most sought after actor in the clan. The first movie which is still undergoing post-production fine-tuning is titled Two Dollaz. It is a comedy flick with stars like Raffy from Ghana , Jim himself, Mercy Johnson, Ada Ameh, and many others. Jim and Mercy Johnson in a comedy we asked?
"Yes, why not? We are actors, I know you are used to seeing us in romantic movies but this will show you how versatile we are" he said. The movie, which enjoys partnership from a popular Nigerian entrepreneur from UK, will go round cinema houses before being released in CD format.
The second movie, titled Shades of White features Rita Dominic playing a role she's not accustomed to. She plays a housewife with very serious academic background married to a record label executive who is larger than life. Rita's role demands no make-up and she was all natural without her usual facials. Aside Rita and Jim, Keffi, a rising Ghanaian star, Debo, Ebere Okaro and Omar all acted in the movie.
Jim's management and publicist are currently working on marketing the movie in ways movie marketing has never been done in Nollywood