How Muma Gee, I planned 'our love affair' —Emeka Ike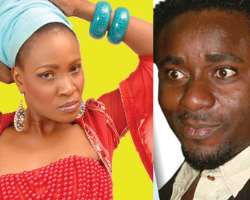 It is no longer news that Nollywood actor, Emeka Ike emerged the last man standing at the recently concluded Gulder Ultimate Search celebrity showdown.
The new twist to the story, is the revelation by the celebrated actor, that the purported romance that blossomed between himself and female musician, Muma Gee, was a mere drama conceived to deceive the other contenders and viewers.
Emeka denies ever having an affair with Muma Gee, insisting that "what happened between us was planned to deceive viewers and my rivals."
He berated Chioma Chukwuka over her worrisome attitude at the GUS camp, while taking on the Board of Trustees of the Actors Guild of Nigeria, AGN, amongst other issues addressed.
Excerpts.
Congratulation on your recent victory as the last man standing at the maiden edition of the Gulder Ultimate Search: Celebrity showdown. What was the experience like?
It was quite an experience, an adventure for me. I was at the show to learn how to live and to survive in the jungle. I also experienced the pain and travails of the poor hunter who forages in the jungle every day for survival. Those were lifetime lessons I learnt while sojourning in the jungle.
What really happened between you and Muma Gee? And what role did Chioma Chukwuka play in the whole affair?
The whole drama was conceived as a way of making the reality show lively. When Muma Gee came up with the idea, I was fascinated and quickly suggested that we got my wife informed about it.
Surprisingly my wife gave her consent to the idea. We informed Muma Gee's finance who equally consented to the idea.
The 'love show' was a make-believe. While my colleagues in the jungle were misbehaving and saying all sorts of things against us, we were just laughing at them. They didn't understand what was going on.
We used that medium to play tricks on everybody. It was a drama of deception that was put up to make a statement and nothing beyond the obvious.
But one of the house mates, Chioma Chukwuka refused to be fooled?
She couldn't come up with evidence and her suspicion was not established. At the end, she only succeeded in exposing her real person. As a self-acclaimed born again Christian, she had all the opportunity to display the attributes of a true Christian or "born again" but she failed miserably.
The camp provided a platform for everyone to showcase his or her other hidden attributes, instead Chioma chose to expose the other side of her life. I used the platform to consolidate on my skill and talent as an actor and the result is what you saw happen between Muma Gee and myself.
Muma Gee was our guest at my Thanksgiving service and I'm happy today, she is getting married very soon.
You were also accused of being cunning and deceitful by your fellow house mates. Was it part of the ploy to win the star prize?
Smartness is the right word to use here. I think it was smartness that won me the star prize. I have a gift of reading people and reading their minds. If you'd recall, I was always behind other contenders. And throughout the period hostilities lasted, I never took the first position in any of our exercises. I was tactically managing to make the next assignment while preserving my energy for the D-day.
How did you feel when you found the treasure?
I was excited. I think it was destiny at play. Life is not all about how much effort you put into anything, instead its destiny and the will of God that prevails. If you are at the right place and at the right time, you will definitely have an encounter with destiny. When I found the hidden treasure, I said to myself, "Oh God, your word is true."
You weren't expected to win the prize?
If you have read any of my interviews, I categorically stated that I love to be underestimated. That's my strength. I love proving people wrong. In the jungle, I knew what I was doing. I was focused and determined to be the last man standing.
Who was the first person you called after you'd found the hidden treasure?
My wife. To God be the glory was the exclamation.
With N7.5million prize money cooling in your bank account, how do you intend to spend the money?
I have invested part of that money into my private school, St. Nicholas Secondary school located at Magodo Estate. I ensured that the money went into acquiring more equipment to boost learning in my school. I bought new sets of computers, air-conditioners and laboratory equipment
I also put some of it into my hotel business. One of the hotels located at Ayibo area of Lagos will be completed before the end of this year and the other at Ogudu, is still under construction.
Are you still laying claim to the presidency of the Actors Guild of Nigeria, (AGN)?
I've decided not to join issues with anybody at the moment. I don't see the need for me to operate at the same level with other claimants because they lack knowledge and understanding. If there's justice in this country, I will get it.
The so-called members of the board of trustees of the guild know this much, but they have chosen to toy with the destiny of the guild.
I don't recognise their so-called government of national unity. I wonder if members of the board have ever taken time to really study the constitution they are parading everywhere.
A lot of crimes have been committed against this guild because they are not carrying our members along. I wouldn't have known all of these, if I'd not been invited into this mess. It is one of their mistakes.
Initially, I was on their side until I realised how much we have been cheated and deceived by them. I had to withdraw my support. Our children's children need to benefit from this industry.
Segun Arinze is not my problem but the board of trustees whose tenure expired in 2008.
The board has undermined the growth of the actors' body and I promise them that, as long as I live, I will see to the end of this matter. They will be hearing from me soon.