Hon. Edwin-nwonu Charges Uburu Pdp Youths On Unity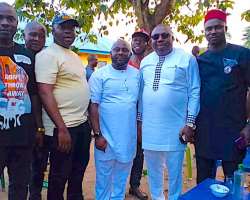 Rt. Hon. Anayo Edwin-Nwonu with the youths in Uburu.
The relevance of unity to individual and corporate success, development and prosperity cannot be overemphasized. This was the message of the Chairman of House of Representives Committee on Reformatory Institutions and member representing Ezza North/Ishielu Federal Constituency in the National Assembly, Rt. Hon. Anayo Edwin-Nwonu on Saturday, 14th August, 2021 to a gathering of members of the youth wing of Peoples Democratic Party, PDP, at Uburu in Ohaozara Local Government Area of Ebonyi State. Speaking to the youths during a stop-over meeting with the Uburu PDP youths who gathered in their numbers at Central School, Uburu in Ohaozara Local Government Area of Ebonyi State, Hon. Edwin-Nwonu who is a Peoples Democratic Party stalwart said: "When I heard that our youths are meeting here, I decided to stop here to felicitate with you because you are the strength of our country Nigeria, Ebonyi State and our great party, the Peoples Democratic Party, PDP, and no society or group that wants to succeed can joke with her youths.
"Be that as it may, what I like about you people is the fact that you are united. I have seen it on your faces and from your conducts here so far and I can tell you that unity is a catalyst to progress and development. There is no doubt that once you are united, your efforts will make more impact and no one can despise you".
Speaking further, the federal legislator pointed out that "God is interested in the unity of mankind and that was why he created man and provided room for the multiplication of mankind and prayed in the gospel that people "may be one".
In a vote of thanks to Hon. Edwin-Nwonu, the energetic youths who spoke through their leader who was the immediate past chairman of Ebonyi State Forum of Development Centre coordinators, Hon. Ene Odii, thanked the federal legislator whom they described as an "Ambassador of Good Governance" for his meaningful advocacy in the green chambers and the many infrastructural and human capital development projects he attracted to his constituency and other parts of Ebonyi State. The youths thanked Rt. Hon. Edwin-Nwonu for the many federal jobs he gave Ebonyi youths and for his special scholarship programme through which he saved the academic careers of many indigent Ebonyi youths studying in Ebonyi State University, EBSU, Abakaliki. The youths who expressed the hope that God would use Anayo Edwin-Nwonu to rescue Ebonyi State from what they termed "unbridled personalization" of Ebonyi State thanked the law-maker for coming to encourage and support them. They concluded by assuring the law-maker that they would remain united and work for the recovery of Ebonyi State from the All Progressives Congress which they berated as "a political party which has specialized in reeping where it did not sow".
The gathering of the youths attracted other Peoples Democratic Party stakeholders like the Southeast Zonal Youth Leader and former Special Assistant on Youth Empowerment to the Governor of Ebonyi State, Hon. Chidiebere Nwambam; the Publicity Secretary of Peoples Democratic Party, Ebonyi State chapter, Barr. Silas Onu among others.