SENATOR YERIMA: AMBIGUITY IN THE NIGERIAN CONSTITUTION PROCLAIMS YES AND NO TO CHILD MARRIAGE.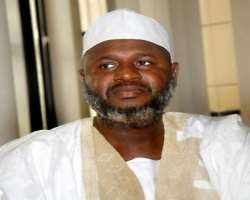 PHOTO: NIGERIAN SERVING SENATOR, AHMED SANI YERIMA.

Now, the National Agency for Prohibition of Traffic in Persons and Other related matters (NAPTIP) have apparently uncovered the inherent conflict surrounding the constitutional declarations on Child right's law.
As a consequence it appears unable to gather adequate legal evidence to charge Senator Ahmed Sani Yerima of Zamfara State to Court. However, it has reportedly 'zoned' or referred the matter to the Federal Ministry of Justice.
Assuming the Ministry of Justice will follow up with the case it will have to look at the apparently hurriedly prepared Nigerian Constitution of 1999; known for its mark of the three Axis of Religion as regard to family affairs.
Firstly, there is the Customary or Tribal practice, which allows an innocent girl to be plucked up into a marriageable life with an adult male. A marital arrangement that is usually secured through a monetary exchange and consent from the girl's parents, the father in particular.
Secondly, there is the Islamic side of the Constitution that protects the rights of Muslims. One of the liberties is the right of an adult male to marry a girl of any age.
Lastly, there is the Euro-American/Judeo-Christian type proclamation in the Nigerian Constitution known as the Child's Right Act which authorizes a marriage only if the female is not below the age of 18 years.
Clearly, this Axis of legal-religious declarations in family law leaves the Constitution in a state of an embattled document.
In describing the U. S. Constitutional system, a system taken on by Nigeria, President Barack Obama noted in his world wild speech in Turkey in April of 2009, that "America in not a Christian, Jewish or Muslim Nation".
Exactly, a year later, President Jonathan, in his acting capacity asserted in a CNN interview with Political Anchor Christiane Amanpour in April, that "We (Nigerians) are a very, very religious society".
Some days later, following Jonathan's religious affirmation in Washington, D.C; Senator Ahmed Sani Yerima confirmed in a BBC interview that "As a Muslim, as I always say, I consider God's Law and that of his Prophet above any law". "I will not respect any law that contradicts that and whoever wants to sanction me for that is free to do that" " I don't care about the issue of age since I have not violated any rule as far as Islam is concerned".
In this regard the split minded Nigerian Constitution protects his religious rights that allow him to marry any innocent female girl of any age. Sections 37 and 38 of the 1999 Constitutional law of the land appear to guarantee his Islamic beliefs on marriage.
As far as Senator Yerima is concerned, the Judeo-Christian clothed Child's Rights Act of 2003 that is anti-child marriage, as it relates to marriage to any female below 18 years is an invasion of his right to privacy. He views the Child's Right Act as an antithesis to his right to propagate, and an infringement on his family make- up.
In the face of these inherent ambiguous, equivocal or oppositional declarations in the Constitution, the Nigerian Constitution, clearly potentially victimizes every girl in the country.
As it stands now, no one is sure of what represents the highest supreme law on this issue in Nigeria. But in the case of Nigeria's Constitutional parent, America, its Rule of Law bars any religious test to anything, including marriage.
So what needs to be done is not an easy answer but if it true that Nigeria is a "religious society" as proclaimed by President Jonathan, every religious faith is free to decide what constitutes marital arrangements under the ideologies of their faith.
Along the same lines, the government should be free to use its statutory power to reject or accept any marriage in terms of legal recognition.
To avoid any one circumventing the legal process in family/ marriage rights, a new national definition of marriage or marriage protection amendment is warranted.
Also, the legislative bodies and the Supreme Court should make it clear to persons of all faiths or non-faiths that they have the absolute right to believe in their beliefs.
But the liberty to act out those beliefs must not intimidate the safety of a democratic society. Most especially, religious beliefs must not threaten any one deemed psychologically, biologically and communally vulnerable.
So if Nigeria wants to preserve its democracy it should tell everyone what marriage law supersedes different religious marriages?
The people need to know directly from the President if on a federal level, marriage is legally defined as between two adults? For example, do he and she have to be at least of 18 years old irrespective of religious/ethnic background? Also, does such legal mandate apply to all Nigerian States?
Also, should another State be compelled to recognize an adult –child marriage performed in another State like the Qur'an toeing Katsina or Sokoto.
How would such an inter-State movement turn out, for example, as it relates to a purported pregnant Muslim girl child of about eleven and half years old being able to benefit from family medical leave from her school in a predominantly non-Muslim State like Enugu?
How would such situation work out, for example between her 51 years old husband and a secular or a Christian physician, and the Headmaster of her school?
It is certainly difficult to predict what type of road lies ahead on matters like child marriage.
But as long as Nigeria functions as one part of a Global democracy where the safety and liberty of the susceptible is constantly being affirmed the President, the Supreme Court and the federal/State legislatures cannot just push this matter aside.
We are looking at a situation that could threaten the overall unity of the people and rip apart the collective future of the Nigerian Republic.
John Egbeazien Oshodi, Ph. D, DABPS, FACFE, Clinical/Forensic Psychologist and the Interim Associate Dean of Behavioral Science, Broward College, Coconut Creek, Florida. [email protected]
Disclaimer:

"The views/contents expressed in this article are the sole responsibility of the author(s) and do not necessarily reflect those of The Nigerian Voice. The Nigerian Voice will not be responsible or liable for any inaccurate or incorrect statements contained in this article."
Articles by thewillnigeria.com