BLIZZARD BACKS DOWN OVER GAMERS USING REAL NAMES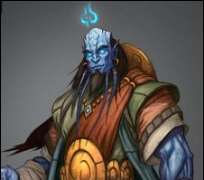 World of Warcraft has more than 11 million monthly subscribers
Following a barrage of criticism, World of Warcraft publisher Blizzard has backed down on the need for gamers to use their real names on its forums.
The firm's about-face comes three days after saying it would introduce the feature as part of its Real ID product.
Blizzard said the intention was to cut down on "flame wars" and heated online arguments started to cause trouble.
Within 24 hours of announcing the plan, Blizzard received more than 1,000 comments, mostly critical.
Hours before the change of heart, there were around 50,000 comments stretching over some 2,500 pages.
"We've been constantly monitoring the feedback you've given us, as well as internally discussing your concerns about the use of real names on our forums," Mike Mourhaime, founder and chief executive of Blizzard wrote in an open letter on the company's forum page.
"As a result of those discussions, we've decided at this time that real names will not be needed for posting on official Blizzard forums."
REAL ID will still go ahead without the real names requirement and allow users to vote comments on the forum for World of Warcraft and Starcraft II up or down with low-rated posts slowly disappearing.
'Huge triumph'
The move has been described as a common sense one by those that cover the industry.
"Blizzard, like many firms, has been trying to figure out how to deal with the hateful flames that anonymous persons post by their thousands but getting gamers to use real identities wasn't the solution," said Dean Takahashi, lead writer with GamesBeat.com, an offshoot of the news website VentureBeat.

Critics of the real names plan feared it would chill free speech
"There is something to be said for being able to post anonymous comments especially when you want to say something truthfully but can't because you are worried about it say affecting your employment position or because of the backlash you might get," he told BBC News.
The Centre for Democracy and Technology called it a "huge triumph for gamers" given concern that the new policy could lead to identity theft, stalking, real-life harassment and encroach on privacy.
"Once again we have seen how a motivated group of users can take back their privacy by using the power of the internet to share a common concern, amplify the message and demand corporate action," said Sean Brooks, programme associate for the Centre.
Those very users who hit out at the move to end anonymity were just as quick to applaud Blizzard for its volte face.
Comments on the company's forum page ranged from "thanks for listening to us. We really appreciated the U-turn on Real ID forums" to simply "win".
One player who goes by the moniker Zwip, Ragnaros was more prosaic in their assessment of the publisher's move and wrote "elitism is the fall of man, To proclaim that you are a scrub is the realisation of true skill, for forever you are improving".