Ipob Absolves, Apologize To Obiano, Umeh For False Accusation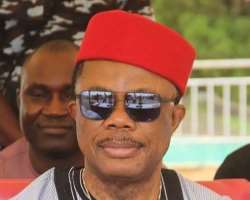 Chief Willie Obiano (Anambra State Governor)
The leadership of the Indigenous Peoples of Biafra (IPOB) has absolved the governor of Anambra State, Chief Willie Obiano and apologized to him for erroneously accusing him of having a hand in the abduction and extradition of the leader, Mazi Nnamdi Kanu to Nigeria from Kenya.
In a statement signed by Comrade Emma Powerful, the Publicity Secretary of the group, IPOB said "we wish to absolve Gov. Willie Obiano from any involvement in the act contrary to our earlier statement based on preliminary investigation. Gov. Willie Obiano was found to be innocent after our intelligence unit conducted further investigations on him. We regret any harm our earlier statement might have caused him."
Waxing philosophical, the group which also exonerated Senator Victor Umeh from its earlier charges of complicity in the abduction their leader further declared "We are responsible enough to admit our error any time any day. So, we apologise to Gov. Obiano and Victor Umeh."
Emphasizing that it does not act on rumour or propaganda, the group declared that "Senator Sir Victor Umeh is innocent of the accusations against him, the voice note going viral where they mentioned Victor Umeh is not true and our people should disregard that voice against him anybody involved in such abominable act should desist from such and repent because IPOB will get him or her who are responsible for this cowardly act."