"Gadually Ala Igbo Ga Adinma" – Obi Cubana Speaks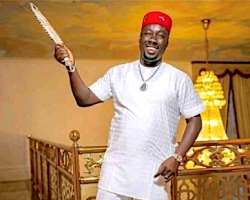 Obi Iyiegbu (chairman, Cubana Group)
While the chairman of Cubana Group, Obi Iyiegbu, popularly known as Obi Cubana, was being criticized from right, left and center by those that could not have boldly engage him in a face-to-face interaction on a good day, not many of his critics that undeservedly resort to prying into how he sprayed his hard earned money the way it pleased him during the burial of his mother were cognizant of the fact that he is a trendsetter, youth builder, a creator of businesses, a helper and a philanthropist. As it were, it was obvious that his traducers were not brainy enough to fathom his entrepreneurial disposition and business sagacity as they were unarguably brainwashed by the slanderous comments they heard about him from rumor millers. One of such slanderous comments has it that he has no genuine business that could have yielded such colossal amount of money that was frivolously dedicated to the burial of his mother. Some comments even insinuated that he is into "Yahoo-yahoo" and mischievously went as far as likening him to Hushpuppy. Worse still, others bluntly said he is a ritualist. But as someone whose life is serendipitously being guided, the deputy commissioner of police and leader of the Inspector-General of Police's Intelligence Response Team (IRT), Abba Kyari's attendance at the burial to a large extent gave his image a mileage as people began to reason that if he was that bad as being bandied by his traducers that the topnotch police detective would not have graced the occasion to commiserate with him.
Against the foregoing backdrop, it would be recalled that Kyari in a post on Facebook, said he attended the funeral despite his busy schedule because of Obi Cubana's good nature.
His post read: "Obinna Iyiegbu popularly known as Obi Cubana is one of the most hardworking entrepreneurs and humble personalities that I've known for many years. He's a brother and Good Friend.
"For his good nature and Good heart, I had to squeeze out time from my busy schedule to honour him by attending the burial of his Beloved Mom in Oba town Anambra State."
Be that as it may, as someone that wants his image to be favorably perceived, Obi Cubana has recently reacted to the image-blurring gossips that were being bandied around his personality. He stated in his reaction: "I want to state this clearly, I am not the talking type or Social media interest free person.
"Many have questioned the type of boys and friends I have, to me, I hardly address anyone as my boy because we are all boys to God Almighty.
"I don't have any boy who is into rituals, if you are my boy or my man because I like to address my boys as my men, it means you are working hard and you made your money in a clean way.
"In 2013, I pushed 53 uneducated Oba boys into the market to learn trading. In 2017, I withdrew all of them from their Ogas and settled all of them with 3million Naira each and paid for their shops.
"I linked 40 of them into importation and made them use my name and platform to import goods into the country. After two years, I checked on them to see how they were doing and find out some had issues and I supported them again to stand.
"I am happy today that out of the 53 men, 38 are billionaires while the rest are in the level of a millionaire.
"In 2018, I took 100 educated men out of the streets and introduced them to the white men for business and today they are billionaires in dollars.
"They also help me in their capacity when I require their help. All their friends both in Nigeria and outside patronize me.
"I am into hotel and club business and I have so many businesses I am brand ambassadors to.
"I have alliance with spirit drinks and wines, I am brand to many businesses in the world.
"It gives me joy to see my men do well, none of my hotel managers in Nigeria can smell poverty, I encourage them to raise others from their local communities. I have never sacked a worker due to misconduct, I bring you in and speak to you the way you will understand.
I have this understanding that we should allow the stubborn people to exist and cool headed people to exist and we make use of them when their needs arises.
I don't believe in the supremacy of power rather I believe in the fair share of power and authority and allow everyone to feel belonged.
I have many uncountable people through my hotel business, I have encouraged many, I have made a lot of friends millionaires and billionaires because it gives me joy. Seeing them throw money around gives me happiness and they know, so anytime they are with me, they show such attitude of throwing money to please me.
Yes, I will gift 1 million to 300 Oba boys to start up business and link them up too to make it.
I have a lot of friends and associates and we are like brothers to each other. We love and encourage one another in good and bad as you have seen in my case that all of them came massively to support me.
Criticism is normal and they can say what they want to say but when you are doing the right thing, you don't listen to what people say. If I have my way, I will also help those criticizing me.
A lot of non Obas will still benefit from me because I am still in the business of making people great.
"Cubana chief priest is my man and he is a jolly fellow. People mistake him for me, I am Obi Kubana and he is my Chief priest I hope you understand it now.
"I am not into politics and I don't have interest in it till tomorrow. I respect those in politics because dey carry power. Lol hahaha.
"My advice is they should identify talents and make them great, don't have any fear of who betrays you tomorrow, just make men and move, if they remember good if not be happy that they made it through you.
"I didn't asked my boys/men for donations or help, I didn't also asked my friends for help or donations they did that on their own volition and I appreciated their efforts.
Dispassionately analyzing his comments in reply to his critics, there is no denying the fact that Cubana is a misunderstood man who meant well for Oba as a community and other Nigerians that come across him in the course of searching for his daily bread. For instance, he ended his statement with enthusiasm in his dialect thus: "Gradually Ala Igbo Ga Adinma". Without doubt, his enthusiastic comment formed the basis for the coinage of the title of this piece.
Again, ostensibly sounding cautionary to the youths in an interview with BBC pidgin today where he asserted that only hard work pays, he said, "Miracle no dey give money, native doctor no dey give money, na only hard work'
Disclaimer:

"The views expressed on this site are those of the contributors or columnists, and do not necessarily reflect TheNigerianVoice's position. TheNigerianVoice will not be responsible or liable for any inaccurate or incorrect statements in the contributions or columns here."