DANIEL ASSURES ON INDUSTRIAL GARDEN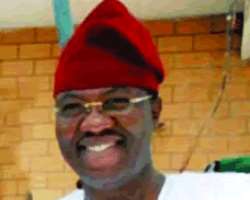 Gov. Daniel
Nigeria will soon have an industrial garden like some advanced countries, Ogun State Governor, Otunba Gbenga Daniel, has said. He disclosed this during the presentation of a drama, The Slanted Pot (The rise of the Arole of Remoland) held in his honour by the state Teaching Service Commission in Sagamu at the weekend.
According to him, the project, which will be like the Chandong Industrial Garden in China, will be located within the rubber plantation in Ikenne Remo.
This, he disclosed, will lead to the evacuation of part of the plantation, as some of the rubber trees planted during the Action Group government in Western Nigeria under the late Chief Obafemi Awolowo were no longer productive.
He said no fewer than 15 companies have indicated interest in the project and that in readiness for the garden, his administration has commenced dualisation of the road from Isale-Oko area in Sagamu to Ikenne.