Uduaghan Commissions 60 Bed Hospital in Ubulu Uku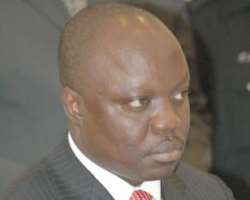 Emmanuel Uduaghan
In keeping with his administration's policy of bringing health care delivery to the doorstep of every Deltans Governor Emmanuel Uduaghan has commissioned a 60-bed hospital at Ubulu-Uku in Aniocha South Local Government Area.
The hospital which was built at a cost of N207 million is the constituency project on Hon. (Mrs.) Amaechi Mrakpor, the member representing Aniocha South in the state House of Assembly.
In his remarks, Governor Uduaghan reiterated that healthcare remained a key programme in the implementation of the State Government.
According to him, "health is key to the attainment of peace, human capital development and infrastructural development".
The governor assured that the state government will continue to accord priority to health related issues because it believes that health care for the citizenry should start from the day of conception.
Governor Uduaghan who commended Hon. (Mrs.) Amaechi Mrakpor for using her position to attract the hospital project to her community, reminded Legislators that legislative business goes beyond making laws.
He used the occasion to call on restive communities to emulate the peaceful disposition of the people of Ubulu-Uku to allow for the quick completion of projects in their areas.
"There are some communities were projects are delayed because the youths are either demanding for illegal development fee or some other things", the governor added.
In his welcome address, the Commissioner noted that the establishment of the hospital and many others across the state was a clear demonstration of the state government's resolve to bring qualitative and affordable health services to the people.
The ceremony was attended by notable sons and daughters osf Delta North as well as tdraditional rulers, including the Obi of Ubulu-Uku, Ofulue III.