WE'VE EMPOWERED OVER 60.000 NIGERIANS – MAURICE ETIM, DIRECTOR, EDMARK HEALTHY LIVING PRODUCTS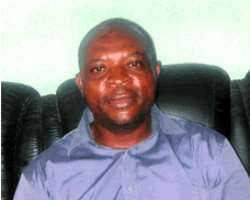 Etim
Mr. Maurice Etim is the Nigerian Director of Edmark International, a multi-level marketing company that is into healthy living and kitchen products. Etim, who doubles as the General Manager of the Malaysian company, brought Edmark to Nigeria last year, after his first contact with the company in 2003.
Edmark, with an administrative headquarters in the Philippines, has trained and empowered over 60,000 Nigerians in its seven years in Nigeria. Etim spoke highly of Edmark in a chat with Saturday Sun , and said 'Edmark is a Malaysian organization that is into healthy living and healthy kitchen products. We have partners in virtually all the continents.'
How did you come in contact with Edmark?
I knew the company in 2003 after I left the Lagos Chamber of Commerce, where I worked at the trade fair department. I was at the Chamber for 14 years; first four years as temporary staffer and the next 10 years as full staffer.
I was an office assistant throughout my years with them and never got promoted. I was called technical assistant, a glorified name for office assistant, whose job was to locate spaces for those coming for trade fair. By virtue of that position, I came in contact with so many companies, including Edmark. The highest salary I earned at the Lagos Chamber of Commerce before the reorganization that affected me was N3,000. In fact, I started with just N500.
My retrenchment was an opportunity and the turning point in my life. Immediately after my retrenchment, I decided to apply my experiences to help myself. That was how it occurred to me to put up a proposal to the Malaysian External Trade Development Corporation, which I saw on the internet.
They organize and promote Malaysian products outside Malaysia. Luckily, I was advised to write them through their embassy in Lagos, so that it will look more authentic, since a lot of fraudsters operate in Nigeria. Funny enough, the day I went to the embassy to submit and defend my proposal, I borrowed a suit from my uncle who was a driver.
The long and short of the story was that after several scheming by some top shots at the Lagos Chamber of Commerce, I was able to start genuine business with Edmark.
We started with their healthy cooking products in 2003.
What is the impact of Edmark healthy living products on Nigerians?
Most of their healthy living products are marketed globally through network or multi-level marketing. Edmark has its administrative headquarters in the Philippines as I said earlier, while the factory is in Malaysia. I came in contact with their living products during one of my visits to Asia.
I had serious inflammatory problem and all the hospitals in Nigeria that I visited only gave me painkillers, and after a week or two, the pain returned. The pains were usually heavy in my knees, neck, back and other parts of my body. My friend and business partner in Malaysia, took me to Edmark's healthy living factory during my visit in 2006. I was lucky to meet the chairman of the company who gave me some chlorophyll to drink instead of the usual coffee. I was also given some bottles to take home. And that put an end to my health challenge. But I tried to buy more in Nigeria but could not find any. When I put a call through to them, I was told the nearest point I could get it was in Dubai. I flew to Dubai severally to buy the products and further discovered that Edmark has holistic products on healthy living. After being properly educated, I decided to bring them to Nigeria.
I was constantly flying to Dubai then to buy these products for my use to the extent that Emirate issued me a Gold membership card. Aside the Splina Liquid Chlorophyll, which is very good for balancing and oxygen supply, others like the Shake Off Phyto Fiber, which is good for detox and cleansing, the MRT Complex, for burning and complete nutrition and the Ginseng Coffee and Red Yeast Coffee, which is good for holistic approach, rejuvenation and lowering down cholesterol are all quality and NAFDAC approved healthy living products from Edmark.
Bringing Edmark to Nigeria was not easy. When I told the chairman about that, he invited me to their Leadership and Team Building Camp (LTBC) in the Philippines, that was after making it clear to me that the product is only sold through multi-level marketing or network system.
At the camp, I saw a lot of people that had made so much money by distributing the products. That experience motivated and opened my eyes to the great opportunities in becoming a distributor and ever since, it's been a sweet song for all the people and I on the network. We have different managers on the hierarchy, depending on the marketing drive. And all these positions of managers come with different benefits and entitlements. After opening up the Nigeria market with almost 2000 networkers, the chairman decided to make me a partner and director. Right now, we have over 60,000 members in Nigeria and we are still growing. But not every networker in Nigeria is under me. I officially became a partner and director with Edmark in 2009, when they finally decided to come into Nigeria fully. I am also a shareholder based on my contributions over the years. Mind you, they have been doing business in Nigeria with me since 2003, but decided to set up a branch officially in Nigeria, in 2009.
What are the benefits that come with being a partner or networker?
A lot. In fact, it's been nice doing business with them. We declare dividends and share profits. It's just been a year that we started this business in Nigeria, and all of us on the Edmark network are happy and satisfied so far.
The most important thing is that through Edmark, my failing health has been restored and unexpected business opportunities came my way and that of other networkers and partners.
Truly, it's been great bringing Edmark to Nigeria because our intentions are genuine. Right from the outset, Edmark has a good intention and sincerity of purpose for its consumers and business partners, all over the world. It is a culture of love, compassion, empowerment and sharing – all parts of our marketing plans. All our distributors are like co-owners of the organization.
We usually give out 71per cent of our profits to our networkers or distributors and make do with just 29 per cent. In fact, some of our distributors make more money than myself that sits on the board.
We also give our distributors the opportunity to be healthy and make good money.
All our products are for good and healthy living, effective and environment friendly. Through Edmark, we have also developed and empowered Nigerians by helping to reduce unemployment and encourage healthy living. A nation thrives when its people are healthy. Again, our products are affordable. Another edge we have is that all our distributors are educated on the Edmark culture of honesty, sharing love and compassion, and this helps to lessen our challenges.
How are you coping with competitors from other organizations?
We welcome competitors, even though we don't have any. We see other networkers' as those helping us to grow, because if they are not there, how do we measure our success or failure? We see them as partners in progress. We always embrace and welcome competitors provided they have good intentions.
What is your future plans for Edmark in Nigeria?
Currently, Edmark is into healthy living and cooking products, in the nearest future, we intend to embark on healthy living environment by setting up a healthy Edmark City, where there will be love, good health, employment and general healthy-cum-proper environment. I see that happening soon and it will be open to our networkers and partners. We are about to begin the first phase of the project in the Philippines. We also intend having a factory within this Edmark City that will be sited in Nigeria. It will be an industrial and residential city.
What does it take to be a network member or distributor with Edmark?
Of course, it's very simple; all you need do is to get an existing distributor to sponsor you after picking the membership form at a token fee. And that begins your journey to healthy pocket and healthy living. The benefits are immense thereafter. First, our products are of high quality and we do not compromise at all. There is a guaranteed healthy living for consumers. All our products are sold based on testimonies. And once you come on board, we do not only give you bonus, we equally share our profits with you, because you're already a shareholder. We also give our networkers proper training and education to become self-employed with good entrepreneurial skills. I do not think that any of our distributors wants to go out and work for people again.
We empower them with our training and this enables them to explore untapped business opportunities. The future of Edmark in Nigeria is very bright, because as we are expanding, we are also creating new jobs and reducing the menace of unemployment. We started in Lagos last year, we are now in Abuja and will soon be going round Nigeria to empower more Nigerians and encourage healthy living.
How unique is the Edmark's marketing strategy?
Our distributors have access to our products at the distributors' price and sell at consumers' price. The difference here, which is another benefit, is the retail profit. Edmark apportions 14 per cent of its profits to all managerial positions and this is paid every month. Some managers here in Nigeria earn between N3m to N4m a month. As a manager at various levels, you're entitled to profits, car allowance, house allowance, travel and holiday allowance, among others.
We also have leadership bonus, which is the highest percentage of the profits. They all come every month without delay, to tell you how effective and efficient we have been, since inception in 2009. We pay over N60m bonus every month to our distributors and networkers. The average monthly income for our distributors and networkers is N500,000.