The Epidemic Psychology Of Corruption In Nigeria: Is There A Bio-social Mixture To It?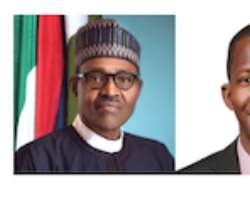 President Muhammadu Buhari could be right on the psychology of widespread attitude of corruption in Nigeria. During a reception at the Buckingham Palace party, British Prime Minister David Cameron in a conversation with Her Majesty Queen Elizabeth in 2016, said, "we have got the leaders of some fantastically corrupt countries coming to Britain ...Nigeria and Afghanistan, possibly the two most corrupt countries in the world."
President Buhari when asked about this image about Nigeria seems to agree when he responded that "I am not demanding an apology from anybody." "I am demanding a return of assets." Buhari, when further asked if Nigeria was "fantastically corrupt," he responded: "Yes."
Buhari, in a recent interview on Arise TV stated, "We have three tiers of Government, Federal, State and Local. We have killed the Local Government totally. We will send N300m as allocation to a Local Government, one Governor will ask the LG Chairman to sign that he collected N300m, but he will give him N100m, and the Chairman will keep quiet...is that how we will continue?"
Buhari, as part of his war on systemic and insidious corruption has chosen an Anti-Corruption Guru, Abdulrasheed Bawa for the country's anti-corruption, accountability, and transparency agency, the Economic and Financial Crimes Commission (EFCC) who is taking aggressive crackdown on individual, government, and corporate corruption. Evil characters and champions of corruption are fighting back with virility and all-round force. They are continuously incensed because they are losing.
For the purpose of explaining the psychology of corruption in Nigeria, the official working definition of corruption in Nigeria, include but not limited to gratification, bribery, kickback, extortion, fraudulent acquisition of property, embezzlement, money laundering, exploitation of public office for personal gain, misuse of state funds or natural resources, fraudulent receipt of property, influence peddling, the use of pecuniary advantage, insincerity in advice with a view to gaining advantage, patronage type appointments , less than a full day's work for a full day's pay, tardiness and idleness. It also includes failure to report any case of enticement to the proper authorities.
Could it be possible that corruption seems to run through every level of Nigerian government which could be due to the possibility that corruption may be running through every level of Nigerian within the Muslim-majority north to the Christian-dominated south, and other regions?
If we are to be completely honest, there is perhaps a little bit of dishonesty or corruption deep within all of us. Fortunately, I believe many can choose to control and suppress such tendencies for our own wellbeing and the good of society.
There is no attempt made here to believe that the Nigerian human beings are naturally or organically corrupt, but we know that most human attitudes and behavior have both a genetic and an environmental component.
Clearly, brain anatomy, genetics, social history, and a person's environment may all contribute to the development of psychopathic traits as it relates to corruption personality.
I am inclined to believe that there are corruption psychopaths given their conning, and manipulative interpersonal styles, and the destructive impact they have on the individuals' life, work, and society.
Corruption personality carriers seem to have the precipitating features of psychopaths which are developmental in nature, with persistent traits becoming apparent before the early part of adolescence.
Corruption is so appealing and deeply rooted in Nigeria that it is said everyone is in the game as if it flows in everybody's vein. In other words, some Nigerians who hold high anti-corruption mentality might have the perception that corruption attitude in some persons is due to dishonesty ingrained as a biological concept, others could see corruption mindset as a social construct, and for some corruption behavior is an outcome of a bio-social mixture.
Quite often, society tend to focus on what is generally known as a Kleptocrat; a leader, a person in power or a highly placed public official who makes himself or herself rich and powerful by stealing from the rest of the people, exploit national resources and steal for private gain. In the same vein, I have raised what I call 'Scantocrat'; as in a low-and mid-level public official, low level worker or someone that generally lives (from ) hand to mouth, or hardly have enough money but when fitting engages in accepting small gifts inappropriately, use his or her low level or petty positions to manipulate persons in need of services and exploit public resources.
To me a corrupt high and low-level public official, share in the mindset of psychopathy which is an extreme form of antisocial behavior.
Examine yourself here with a non-clinical test. ( https://www.ganintegrity.com/compliance-training/test-your-corruption-knowledge/ )
People with psychopathic corruption traits have a strong desire for dishonesty, immorality, poor empathy, callousness, incorrigibility, remorselessness, cold-bloodedness, thrill-seeking, lying, disregard for the welfare of citizens. They are not anxious or unafraid of crossing moral boundaries and are unlikely to consider the needs and wishes of others in the society.
Corruption psychopaths like all persons with psychopathic tendencies and behaviors are known by biological experts to have structural brain abnormalities in the amygdala and prefrontal cortex especially, both areas are involved with emotional expressions and decision-making.
Beyond genetic influences, we know our human culture strongly influences our attitudes and behavior, that could be modifying innate human drives - either suppressing them or encouraging them further.
While I am uncertain if there is an inborn need to engage in corruption what I term 'cultural corruption' or 'environmental corruption' appears to be deeply in existence in Nigeria.
As humans we reinforce and codify various values, exposing them to our children, students, co-workers, colleagues, and relatives while religious, political, business, educational and secular leaders promote them in their behaviors and actions.
Across Nigeria, people openly promote corruption. They encourage a strong corruption loyalty to authority figures. They welcome corruption offenders with street dance and celebrations. Stigmatizing persons known for corrupt acts and staying away from them is almost nonexistence as the people seem to take pride in knowing and associating with corrupt persons, and even try to identify with them. As such corruption actions appear to result to a more agreeable, mutually beneficial relationship society.
When the media, police, judiciary, and other institutions have corrupt persons amongst them the people disappointingly still have trust in them and reinforce their behaviors. This approach has a profound effect on our receiving minds which then continues to shape our beliefs in a way to allow us to rationalize these corrupt acts.
Buhari in a recent interview with the Nigerian Television Authority (NTA) appeared to be confronted with the psychopathic nature of corruption in Nigeria when he stated the following:
"When I was a bit younger, in uniform, when I came, I arrested president, vice-president, governors, ministers, commissioners, and put them under restriction or detention, and told them they are guilty until they can prove themselves innocent...We put investigation panels, virtually based on the present geopolitical zones. For those who held positions and because it was a law for people to declare their assets when they become governors or ministers or commissioners or head of security agencies, they were investigated. Those that cannot explain the extra resources they have in terms of assets and in the banks were asked to surrender. Eventually, I was arrested and detained, and they were given back their loot. So, this is Nigeria..."
He went further stated currently, "...people who misappropriated funds, a lot of them were elected members whether at the state or federal level. And their base still values them...You can accuse them or even try to prove that when they were elected or in ministries, that they had only one house, but now they have several in Abuja or Lagos. Really, if you try to work out their legitimate salaries, vis-à-vis their expenditure, you will be embarrassed."
There is no known cure for psychopathic corrupt minds, and they do not typically respond to or learn from therapy or punishment. There is no known medication which can fundamentally change or affect their thoughts, mood, behavior thereby freeing them from corruption offending acts.
The use of life imprisonment or death penalty as useful instruments to prevent corruption crimes have been suggested in Nigeria. Individuals with psychopathic corruption mentality, due to their destructive, and other antisocial acts, continue to bring considerable economic and social cost to society.
I suggest that identifying psychopathic corrupt tendencies and behaviors in children is often the first step in predicting or preventing the development of corruption personality.
At that point, therapy, mood and thought stabilizers and other medications may also be administered to help a child improve emotional and cognitive dysregulation. For adult corruption repeated offenders, the use of punishment, as a deterrence should continue. There is need for what I call corruption offender registry (COR) that employers can use to make employment decisions. Some have called for the creation of international anti-corruption court as many corrupt public officials have undue influence in their nations courts and the convicts should be barred from any sort of international work, business, and travel.
Corruption psychopathic traits exist on a continuum and runs throughout the population as such to remove from society, corruption psychopaths, especially those diagnosed with extensive moral irrationality from society, let us create penitentiary hospital settings where they will be administered different levels of punishment and various treatments (including shame therapy).
While I continue to imagine that it is possible to steer our cultures, social environments, and rewire our brains and DNA, so that corruption and immorality would disappear the best cure is getting them away from society and free-living environments. If that means building reformatory hospitals, so be it.
Prof. John Egbeazien Oshodi, an American based Police/Prison Scientist and Forensic/Clinical/Legal Psychologist. A government Consultant on matters of forensic-clinical adult/child psychological services in the USA; Chief Educator and Clinician at the Transatlantic Enrichment and Refresher Institute, an Online Lifelong Center for Personal, Professional and Career Development. The Founder of the Dr. John Egbeazien Oshodi Foundation, Center for Psychological Health and Behavioral Change in African settings. In 2011, he introduced the State-of-the-Art Forensic Psychology into Nigeria through N.U.C and the Nasarawa State University where he served in the Department of Psychology as an Associate Professor. The Development Professor and International Liaison Consultant at the African University of Benin, and a Virtual Faculty at the ISCOM University, Benin of Republic. Author of over 36 academic publications/creations, at least 200 public opinion writeups on African issues, and various books.
Prof. Oshodi was born in Uromi, Edo State, Nigeria to parents with almost 40 years of police/corrections service, respectively. Periodically visits home for scholastic and humanitarian works. [email protected]
Disclaimer:

"The views/contents expressed in this article are the sole responsibility of the author(s) and do not necessarily reflect those of The Nigerian Voice. The Nigerian Voice will not be responsible or liable for any inaccurate or incorrect statements contained in this article."