PROBE OF NFF: BLATTER BACKS PROBE OF LULU, OGUNJOBI, UCHEGBULAM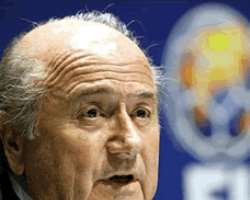 Blatter
The Executive Committee of the Federation of International Football Association, FIFA, says it has nothing against the trials of the sacked president of the Nigerian Football Federation, NFF, Sani Lulu, his deputy, Amanze Uchegbulam and chairman, Technical Committee, Taiwo Ogunjobi.
The Executive Committee after itsr meeting yesterday said it was normal everywhere in the world for public office holders to give account of their stewardship.
The committee also acknowledged that it had received Nigeria's letter sent by President Goodluck Jonathan, announcing his decision to reverse the self imposed ban on Nigeria from international competitions for two years.
The committee headed by Sepp Blatter noted that FIFA is aware of the new executive of the NFF, an indication that football is growing in Nigeria.
The body says it would not interfere in the probe, while the new administration in the NFF is in line with the statutes governing the game. Jerome Valcke, General Secretary of FIFA, after yesterday's meeting said: 'FIFA does not give room and will not condone any corrupt official in its fold because FIFA spends millions of dollars on affiliated associations all over the world. It is very important for these officials to give account on how the funds made available to them are spent.' He said there was nothing unusal about the ongoing probe of Lulu and others, saying there is need for accountability. The accused officials were expected yesterday at the EFCC office for interrogation and the outcome was not known as at the time of filing this report.
On the future of football in Nigeria, Valcke said FIFA was delighted that Nigeria's Under-20 female team, the Falconets, was already in Germany to participate in the Under-20 World Cup, which kicks off Tuesday.
FIFA's President, Sepp Blatter, said it was not their intention to expel Nigeria at any point in time because Nigeria is one of the superpowers of football in Africa.
He disclosed that FIFA was glad that Nigeria met with the deadline given to the government to rescind its earlier decision to ban the country from FIFA's programmes for the next two years. He advised football administrators in Nigeria to run the game properly. In another development, he praised South African President, Jacob Zuma, the World Cup Local Organising Committee, LOC, headed by Danny Jordaan and the citizens for giving the world a befitting tournament.
According to him, 'for South Africa, I'm happy. I want to thank the government because we've seen a successful hosting of the Mundial, and we have seen the best World Cup ever organised and we are proud of them.'