Disclaimer/suspension Of Erring Members Pending Disciplinary Investigation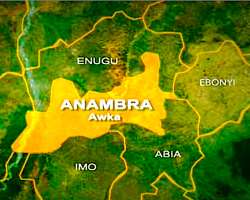 Members of the Anambra State Union UK / Ireland (ASU), in an Emergency Executive Meeting held on 27 May 2021, overwhelmingly voted to *SUSPEND* the Secretary, Mr Henry Egenti for Gross Misconduct, and Mr Ralph Abum for Misconduct, pending disciplinary investigation.
Following a General Meeting held on Sunday 6th June 2021, it was agreed that the Association Constitution Review shall be adopted.
The President and Executives of Anambra State Union UK & Ireland remain the authentic members and represent our association.
It has come to our notice that some non-financial members and non-members have formed their own association purporting to be us; ASU UK & Ireland, and they include;
1. Former Secretary, Mr Henry Egenti
2. Former Vice President, Mrs Nkechi Okezuruonye
3. Mr Patrick Mokwe
4. Mr Malcolm Benson
5. Mrs Agatha Anyiwo
6. Mrs Uzoamaka Uchendu
7. Mr Chuks Geoffrey Okeke
8. Mrs Alice Okafor
9. Mr. Ralph Abum
The above-named persons do not represent Anambra State Union UK / Ireland with immediate effect,
this disclaimer serves as an official notice to the general public and the Nigerian community both here in the UK and back in Nigeria that the above-named persons and their cohorts *DO NOT REPRESENT* the Association in any capacity and cannot transact or enter into any engagement/transaction on behalf of the association with immediate effect.
The signatories and trustees to our accounts remain the same:
Chief Aaron Muorah
Chief Obiageli Ezeilo
Please direct all enquiries to any of the Executives of our Original, Association; Anambra State Union UK& Ireland, listed below:
Prince Lotanna Chima: President
Email address: [email protected]
Cllr Victoria Obaze: Interim Secretary (and social secretary).
Email address: [email protected]
Iyom Chidera Victoria Onwuekwe: Culture and Education Secretary
Email address: [email protected]
Chief Oby Ezeilo: Financial Secretary
Email address: [email protected]
Barr. Timothy Ogbuagu : Publicity Secretary
Email address: [email protected]
Chief Aaron Muorah: Ex-officio
Email address: [email protected]
Lady Sussan Obi-Smith: Welfare Secretary
Email address: [email protected]
Chief Mrs N Obinwe : Asst. Welfare secretary
Email address: [email protected]
Thank you for your cooperation.
Signed
Lotanna Chima, Enyi Nnewi (President ASU UK & Ire.)