Osita Chidoka visits family of late Ahmed Gulak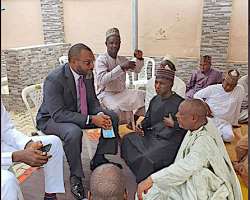 Former minister of Aviation and chieftain of the Peoples Democratic party, Osita Chidoka has visited the family of late Ahmed Gulak in Abuja.
Mr. Chidoka who served alongside Gulak in the Goodluck Jonathan administration met with the wives, son and other members of the of the deceased politician who was assassinated in Imo state on Sunday.
"I and most South East leaders condemn the killing and hope the Police would unmask the killers," Mr. Chidoka said.
"I pray that God forgives his mistakes and grant him mercy," he added.
Speaking on his interaction with the family, Chidoka disclosed that "I told them that I believe most Igbo leaders and people condemn in strong terms the murder of their father, husband and brother. We are a peace-loving people and known for respecting and protecting our visitors. As colleagues in the GEJ administration, I enjoyed a very cordial relationship with the late Gulak".
"Sadly his murder happened less than one week after I returned from his home state of Adamawa, where I was well received and warmly welcomed.
"Igbos are travellers and hence have a lot of respect and affection for visitors. Our proverb Ojemba enwe ilo captures it all, roughly translated a traveller does not seek enemies".
Mr. Chidoka commiserated with the family and prayed to the Lord to grant the family and friends the fortitude to bear the loss.