The Lingering Case Of Osun State College Of Education, Ilesa.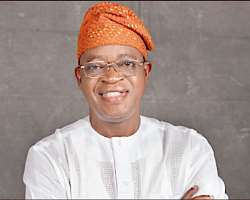 LETTER TO GOV. GBOYEGA OYETOLA (2)
Your Excellency,
Gov, Gboyega Oyetola,
Bola Ige House.
Osun State Secretariat,
Abere, Oshogbo.
Osun State.
Dear Sir,
"Hope deferred makes the heart sick, but a longing fulfilled is a tree of life."
— Proverbs 13:12
Greetings to Your Excellency. It is my sincere hope and prayer that this letter would meet you well as usual.
Sir, six months ago, I brought the case of Osun State College of Education, Ilesa, to your attention and the desire of the sons and daughters of Ijesa home and abroad to see it upgraded to a University status. I am writing you once again to remind you that we are still waiting on you as the one in whom we have invested a lot of faith and trust to make the dream a reality.
It was precisely on November 18, 2020, when I wrote you to please, consider this aspiration of the Ijesa people. If someone was on a sick bed for the last six months and there was no improvement, it is possible that such a person could be vulnerable to depression. And if not, such a person would be teetering on the borderline depression. May God forbid such in all our lives.
The purpose of rendering this analogy is to let you know how anxious the Ijesa people are as they expect this miracle from you. It is to bring to your attention, how much they have hope in you. It is to make you aware how much they hold on to the belief that you could be the saviour they have been waiting for. It is to arouse your consciousness that they believe you could accomplish this for them.
Though, the Iragbiji people, amongst whom you originated, share panegyrics with Ijesa, but you have never laid any claim, subtle or direct, to being an Ijesa son for political advantage(s). Regardless, you are aware of our forefathers' admonition that "Ajumobi ko kan t'aanu, eni Oluwa ba ran si ni, ni nse ni l'oore." We, the Ijesa, believe that "Iwo ni eni naa ti Oluwa ran." To this extent, we expect you to deliver unfailingly.
In Matthew 17:20, Jesus had told his listeners that, "Truly I tell you, if you have faith as small as a mustard seed, you can say to this mountain, 'Move from here to there,' and it will move." This is the kind of faith the Ijesa have in you. It is a kind of faith that is expected to secure a seismic shift from long held promise to the land of fulfilment. It is a kind of faith that if not met with realistic outcome, could make the thin line between love and hate, thinner.
As an Alhaji, it is evident that you are a very religious man. As a religious man, Your Excellency would know what it means to be saddled with a divine responsibility. The upgrading of the Osun State College of Education, Ilesa, to a University status is a divine responsibility thrusted on you by Eledumare, the God of our fathers. This writer has enough confidence in you that you would not disappoint in this divine task that it has pleased God to assign to you.
A very close friend of yours told me recently that you have promised that you would always do what the people wanted. He told me that you have reiterated this over and over. He told me how the contents of you character have not changed since 1968 when you were in school and when you lived together in a room. He insisted that the only thing that has changed about you was your physiology. He spoke on how you always considered and chose your words. He spoke of how considerate and concerned you always were and still are, about the feelings and the desire of others.
The only thing this suggests is that you are a man of the people. A true representative of our people. A believer in true democracy. Someone who trusts his people to know that they know what is good for them. Someone who has confidence in the people to understand that they know what they want. As the leader-servant, who listens to his people and respects their aspirations and dreams, the Ijesa believe that they are in good hands.
The most important benefit of a representative government is that the citizens, or groups of citizens are given a voice in their political system. Your Excellency has proven that you understand this as well as anyone. To this extent, the Ijesa believe that they have not only a representative in you, they have a voice in you. And you must speak for your people by making their dreams come true.
For a very long time in Ijesa land, we have hoped for this. For a very long time we have prayed for this. With faith, we have fasted and supplicated. We have traversed a lot of dangerous valleys with vile vipers. We swam across many rivers rich in riled reptiles. We rummaged through fearful forests filled with mephitic ravenous creatures. We sauntered across dry dreary deserts, dehydrated, droughty and drowned in desperation. We have climbed this steep manacling mountain to the top, looking at the promised land, please, don't deny us.
Your Excellency, you have the wherewithal to make this a fait accompli. You have the political will to make it happen. You have the political mechanism to drive it through. You possess the political sagacity to weave and whip the good will for this purpose. You are endowed with the charisma to enchant all for this purpose. There is no obvious obstacle on your path. There is no hurdle that Your Excellency is unable to scale as far as this challenge is concerned. Please, help us.
There are some musings from the grapevine that Your Excellency is waiting till your second term to have this done. It is difficult to establish the veracity of this. But if this has any iota of truth, my sincere advice to you sir, is simple. Please don't do it. Don't wait. The reason is that today has been given to you, that is why it is called "present." Tomorrow is only a "promise." No one knows if it would ever come. No one could guarantee it. What you could do today, delay it not till tomorrow.
To further understand this point, take a cue from History. Learn it very conscientiously. Take its lessons to heart. Let it be your guide. Listen very attentively to the Spanish born American Essayist and philosopher, George Santayana. He had said, "Those who cannot remember the past are condemned to repeat it." Nico Mbarga, that music maestro who originated from the rusty milieu of Obubra City on the banks of Cross River, also insisted that "opportunity comes but once." Well, may be some opportunities come the second time, but very rarely.
So, Your Excellency, do not wait till tomorrow. No one knows if it would ever come. Make the dream of Ijesa people happen today. It is a great opportunity for the Ijesa as well as you. It is an opportunity for you to become indelible in the heart of Ijesa sons and daughters. It is an opportunity for you to belong to the Ijesa pantheon. Make your steps inerasable from the sands of time.
One thing Your Excellency could count on, is that we would be grateful. Our hearts would be full of gratitude. We would be appreciative. We would cherish you. We would treasure you. We would value and respect you. In Ijesa land, you would have a second home. A place of succour in times of need. A place of refuge in times of turbulence.
Your Excellency, please, make this dream a reality. Upgrade the status of Osun State College of Education, Ilesa, to that of a University. It would cost the State nothing to maintain. It would be financially viable. It would be a source of pride to the people of Osun State in general and Ijesa people in particular.
"The delay of what is anxiously hoped for, is very painful to the mind; obtaining it is very pleasant," so posited Matthew Henry.
Please, do it now.
Sincerely,
Remi Oyeyemi
AF 16D, Oke-Iyin Street,
Ilesa. Osun State
©Remi Oyeyemi