The Ìjèsà Rally For N500m Health Project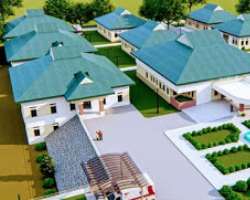 "Everyone has a purpose in life and a unique talent to give to others. And when we blend this unique talent with service to others, we experience the ecstasy and exultation of own spirit, which is the ultimate goal of all goals."
- Kallam Anji Reddy (1939 -2013)
"The highest distinction is service to others."
- King George VI (1895-1952)
Patriotism or national pride, according to the Historical Dictionary of the Enlightenment, is the feeling of love, devotion, and sense of attachment to a homeland and alliance with other citizens who share the same sentiment. This attachment can be a combination of many different feelings relating to one's own homeland, including ethnic, cultural, political or historical aspects. Some manifestations of patriotism emphasize the "land" element in love for one's native birth place.
It is the understanding of this concept that has brought together the brightest and the best as well as the very successful in Ijesa land to map out a trajectory of service, sacrifice and success for their land. These sons and daughters of Ìjèsà land have raised an initial 147 million naira for a health project focusing on geriatric care, expected to cost 500 million naira. The Project, which though would be the second of its type in Nigeria, is billed to be one of the best, if not the best, in West African sub-region. It is already under construction within the premises of the Wesley Guild Hospital in Ilésà.
Anchored by an indefatigable son of Ìjèsà land, Asíwájú Yinka Fasuyi, a Management Consultant guru and successful businessman, the project is attracting and commanding enthusiastic interests from all Ìjèsà sons and daughters all over the world. Asíwájú Fasuyi, who is the Chairman of the Project Management Team (PMT) and the brain box of the Project, had earlier led the task of construction and completed one of the most modern Palaces in Yorùbá Nation and West Africa for the Owá Obòkun Àdìmúlà of Ìjèsà land. He, along with other distinguished Ìjèsà sons and daughters, shifted focus onto the Health Is Wealth Project after the completion of the Palace Project.
The Project has been able to attract the best brains in the planning, designing, fundraising and construction of the project which has taken off on May 10, 2021. This Project is being overseen by three bodies namely:
1. The Project Technical Advisory Committee (PTAC)
2. The Project Monitoring and Evaluation Committee (PMEC)
3. The Project Management Team (PMT).
The PTAC consisted of the three of the best brains in medical world. Prof Isaac Folorunso Adewole chairs the three - man committee. He was the former Nigerian Minister of Health and a former vice-chancellor of the University of Ibadan. Prior to his appointment as the 11th substantive vice-chancellor of the university, he served as provost at the College of Medicine, University of Ibadan, the largest and oldest medical school in Nigeria.
On the Committee with him is Prof Oyewusi Gureje, the most published scholar in the annals of academic history in Nigeria in any field. He blazed the trail by being the first African to obtain D.Sc in the field of psychiatry by examination (at the last count, there are only three of them). Designated as "Professor Extraordinary" at the Department of Psychiatry, Stellenbosch University, South Africa, Prof. Gureje is the Director of World Health Organization Collaborating Centre for Research and Training in Mental Health, Neurosciences, Drug and Alcohol Abuse. Prof. Gureje on the global scene, belongs to the "top 1% cited researchers in the area of psychiatry and psychology" and, according to Clarivate Analytics, he is one of the "most influential scientific minds."
Completing the Committee is Prof. Biodun Ilesanmi, a world-renowned obstetrician and gynaecologist, and former Chief Medical Director of UCH, Ibadan. He developed the assisted reproductive technology centre otherwise known as the IVF and open heart surgery in the University of Ibadan's University College Hospital, Ibadan. Endoscopic and gynae-endoscopic "pin-hole" surgeries too have been conducted under his direction. He is also a pioneer of Tele-medicine.
Their responsibilities included assisting in identifying the choice of Geriatric Centre, generating the MOU between Ijesa Health is Wealth Project and Obafemi Awolowo University Teaching Hospital (OAUTH) as well as the infrastructural layout for the Geriatric Centre among others.
Next is he Project Monitoring and Evaluation Committee (PMEC) led by our own Alhaji Lateef Akande Bakare (LAB). LAB, as he is adoringly and commonly called the world over, became a Chartered Accountant at age 21. A purpose driven and focused personality, exposed early in life to corporate management of capital and human resources with cognate experience which spans over forty years at best rated international organizations within and outside Nigeria.
He is ably supported by Her Excellency, Erelu Olusola Agbeja-Obada, a former Minister of Defence and former Deputy-Governor of Osun State. Others on the PMEC are Eng. Yemi Oguntominiyi, a former Director in the Federal Ministry of Works; Engr. Bola Olowe an international consultant on power and water resources. Mr. Iyiola Faniyi, the proprietor of Rest Park and Gardens, Ilesa, Hon. Timothy Owoeye, Speaker of Osun State House of Assembly and Engr. Olusegun Okebiorun, a retired Comptroller-General of the Federal Fire Service.
The responsibilities of this body included the provision of oversight responsibility on the activities of PMT and PTAC, provision of recommendations on all financial and fiduciary issues before financial disbursements and provision of recommendations on all procurement of civil, goods, and consultancy services. The body is also to monitor, supervise, and evaluate, all contractual obligations involving Ijesa Health is Wealth Project and generate and report to the plenary regularly on the outcome of all Monitoring and Evaluation exercises.
The Project Management Team is led by Asiwaju Yinka Fasuyi. The man who takes joy in confronting difficult tasks. He is like the Bob Marley's "Small Axe, not afraid to cut down any big tree. He knows no mountain he could not climb. He knows no valley he could not traverse. Neither does he know any river he could not swim across for his people, for Ijesa Land. He could not be discouraged. He gives of himself selflessly. A proud Ijesa Patriot who was discouraged from the pursuit of rebuilding the Palace of Owa Obokun Adimula of Ijesa Land, but believed in his vision and the mission. And got it done along with others.
With the Palace Project, he showed his dexterity in management. He demonstrated exemplary leadership. He invested the whole process with trust, confidence and integrity in the ways and manners he imbued it with openness and accountability. To him, the Palace Project was a springboard of more things to be accomplished for Ijesa people with the help of all the brains and resources it has pleased Eledumare to endow Ijesa Land and its people. Hence, this Ijesa Health Is Wealth Project.
He is ably supported as Vice-Chairman by Prince (Rev) Lowo Adebiyi, the spokesperson of The Osun Progressives (TOP) who believes that "Ko si ohun ti o logo ju riran ilu eni lowo" literally meaning "no honor is greater than sacrifice for one's birthplace," as espoused by his namesake Bayo Adebiyi who wrote a biography of Bishop A. B. Akinyele of Ibadan. He is found anywhere the progress of Ijesa Land is being discussed and acted upon. Others on the PMT include Mr. Wale Idowu as General Secretary, Chief Afolabi Igbaroola, a Chartered Accountant as Treasurer, Lady Dupe Ajayi Gbadebo, a lawyer and veteran journalist as Legal Adviser, Engr. Busayo Aluko as Technical Adviser (Engineering), and the indefatigable Dr. (Col.) Akin Moses as Technical Adviser (Medical).
The responsibilities of the PMT include the conceptualization and identification of 2021 Ijesa Health is Wealth Project, provision of overall coordinating responsibility for the project, approval of all financial, fiduciary, and disbursements processes, upon receipt of recommendation from PMEC, and subject to no objection from the plenary and approval of all procurement processes, upon receipt of recommendation from PMEC, and subject to no objection from the plenary. Others include to ensure transparency and accountability in the conduct of business of the Project and generate and publish Project reports on finances and project performance.
This is a fantastic project being handled by equally fantastic people. It is a project that any proud son and daughter of Ijesa has to be part of. It is a project that fits the characterization of what the Americans would call a "Combo", because it is not just of great economic value but also of importance to the well-being of our people. It is a project for posterity.
What has impressed observers most has been the openness, accountability, deep sense of responsibility as well as purposefulness and unalloyed patriotism been employed by the PMT as they lead the execution of this laudable project. They have shown and are still showing deep commitment, made and are still making personal sacrifices using their own resources apart from their financial contribution to the purse for the execution of the project.
Ijesa land has suffered neglect for several decades from various governments. But there is a new day in Ijesa land. A new era has arrived to change the narratives of neglect to that of self-actualization. The daughters and sons of Ijesa land who are distinguished in so many endeavors are coming together to build a new day for ourselves and a beautiful tomorrow for the coming generation. Everyone should strive to be part of it.
The Sage and Avatar, Chief Obafemi Awolowo encapsulated this moment for us with the following quote:
"After rain comes sunshine; After darkness comes the glorious dawn. There is no sorrow without its alloy of joy; there is no joy without its admixture of sorrow. Behind the ugly terrible mask of misfortune lies the beautiful soothing countenance of prosperity. So, tear the mask!"
Sons and daughters of Ijesa land, it is time to tear the mask!
©Remi Oyeyemi