Sanusi Blames Soludo For Collapse Of Bank Stocks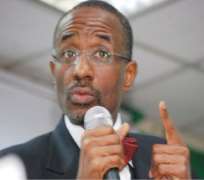 JOS, July 08, (THEWILL) - The Central Bank Governor, Mr. Sanusi Lamido Sanusi has blamed his predecessor, Professor Charles Soludo for the fall of bank stocks at the capital market.
Though Sanusi did not mention Soludo by name, he said it was the " top officials of the CBN between 2004 and 2007" that are responsible for the crash when they failed to alert relevant authorities and the general public when they saw the danger coming.
Sanusi, who was answering questions after presenting a paper at the National Institute of Policy and Strategic Studies, Kuru, said the top management staff of the CBN between 2004 and 2007 rebuffed the initial reports of imminent danger in the industry that would have averted the crisis.
He however exonerated the junior staff of the CBN and the Nigeria Deposit Insurance Corporation from blame saying they did their job when they notified the CBN that time.
"The sad story in all this is that we now have evidence that junior officers in the CBN did document their concerns to CBN top management at that time, but no action was taken.
"We also have evidence that the NDIC documented its concern but its efforts to get the CBN leadership to act quickly were rebuffed."
He said staff had not been punished because the bank was investigating the CEO's of the affected banks and could afford to fight from within and without at the same time.
The CBN Governor explained that he did not sack non executive directors of banks when he removed their managing directors because most of the non executive directors did not know was happening in the banks as they relied mainly on reports given them by the bank management.
Sanusi said he spared the non executive directors because they were not in a position to know anything beyond what was given them.
He said since he was not going for outright liquidation of the banks it was right that he leaves some form of organizational structure to represent the interest of the shareholders so that the banks can continue operation.
The CBN Governor said Merrill Lynch lied when it said the debt of Nigerian banks was up to N9 trillion naira saying the figure is N1.5 trillion naira.